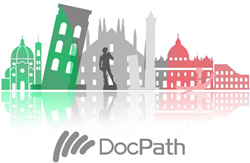 The Italian site not only includes information about DocPath, its document technology software, services and specific areas of action, but it also details the organization´s efforts in R&D+i and quality standards
SUWANEE, Ga. (PRWEB) November 22, 2017
As of this month, DocPath, a multinational document technology specialist, offers its Clients the option of informing themselves in Italian about new developments in Output Management and Spooling products developed by DocPath.
DocPath´s new Italian website is in line with the company´s ongoing effort to provide a customer-friendly environment through localized Web content.
Quick Access to Content and Contact Data
The Italian site not only includes information about DocPath, its document technology software, services and specific areas of action, but it also details the organization´s efforts in R&D+i and quality standards. In addition, the new website provides easy access to the contact data of the DocPath Sales and Technical Support teams.
Italian-speaking visitors will also be able to subscribe to DocPath´s international Newsletter. All of DocPath´s latest news about document technologies and information about upcoming events is posted in the Newsroom section, as well as on social networks.
The Italian Market: A Modern & Mature Industry
The Italian market comprises approximately 60 million consumers and potential customers, whose purchasing power has greatly increased with the market´s recovery after the economic crisis. This situation is generating great opportunities in almost all sectors, with the technology sector as a major growth area. Moreover, according to recent data from leading provider of economic analysis FocusEconomics, Italy's GDP registered positive figures last year, growing 0.9%, despite having suffered a dramatic economic crisis and as a consequence of the latest political efforts to mitigate the effects of the crisis and introduce reforms.
On the other hand, the country continues to hold an outstanding position in Brand Finance's annual dossier on the strongest global brands, ranking ninth, which confirms the relevance and competitive status of the Italian brand.
Visit DocPath's corporate website and check out its document technology software products and services in Italian here.
About DocPath
DocPath is a leading business document software manufacturer that provides its world-wide customers the technology that allows them to complement their ERP and implement sophisticated Customer Communications Management and Document Output Management systems, as well as advanced document spooling software. Created in 1992, DocPath's Solutions are found in companies scattered across the globe. Its international clients include prestigious banks and first class corporations, which are aided by DocPath's Solutions as the complicated and critical tasks involving the design, generation and distribution of business and customer documents are significantly simplified. DocPath maintains a strong commitment to R&D&i, an area that receives a good amount of its revenue, and in which lies the key to the company's success.
For more information, visit: http://www.docpath.com.
Disclaimer: DocPath trademarks are the property of DocPath Corp. Other company, product and service names may be trademarks or service marks of others.