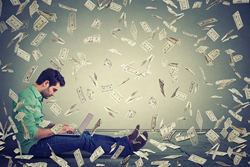 Artists can setup their accounts within a couple of minutes to start selling their art online.
EATONTOWN, N.J. (PRWEB) November 24, 2017
While many artists including graphic designers, photographers, logo designers are struggling on trying to make a living online by selling their art in the market or in galleries, a few found the right tool to sell their art to the right audience. From galleries, to stock images, to private label websites, there are many outlets where artists can sell their art, but there are a few forces that act against them including difficulty in getting accepted by galleries or websites and the low prices at which their art is sold.
A photographer who sells his pictures as stock photo said that he made $0 to pennies for some of his pictures, and the rest of them made him a few hundred bucks (over time), but the amount of effort that went into clicking the pictures, and editing them, was worth a lot more than that.
Meanwhile, artists started uploading their designs on Customon's website and not only did it automatically apply those designs to over 40 different products including t-shirts, hoodies, sweatshirts, hats, etc but also many accessories like coffee mugs, travel mugs, etc. They also listed these designs on their product inventory, so the new designs got noticed by hundreds of thousands of customers using that website.
"Not only is it easy, it is so obvious. You can either sell on the Customon Marketplace, or create your own shop on their website. I did both since selling is free on both channels," says Aibek (artist) from http://www.customon.com. As an artist, people don't realize that their art doesn't have to sell like the "art" that you create, but can also become a part of the top-selling product lines out there. Now besides having their designs on a high traffic, high conversion website, the artists can also promote their own art on their facebook, twitter and instagram pages, in addition to promoting it offline/word of mouth and create a following of their own.
Besides selling their own designs to the target audience, some artists even go to the next level by taking projects from big corporations to create promotional material for them, making even more money by using the design tools that Customon offers.
In a short interview with the founder of Customon, Ramazan Taylan said that he and other founders of the company always knew that there are people who like to create art and have big dreams of sharing their art with the world. Not every artist out there has the right set of tools to be able to take their art, create a wide variety of products, market those and ship them without having to go through a lot of hassles, so we wanted to create all the tools so they can focus on doing what they do best - Create Art, while we handle everything else for them.
This statement stands true for all those artists who were able to identify the opportunity provided by customon.com and took advantage of it to generate thousands of dollars in commissions. Customon paid over $50,000 to artists who sell their design on their website within the last year. The process to make money on Customon's website is very straightforward and can be followed by any artist who has art that they own. They can visit the website, create an account and upload their designs in the specified formats. Once the designs are published, the products become live in the marketplace and on every purchase by a customer, a pre-determined commission is credited to the artist and paid out every month.
Artists can signup at https://www.customon.com/start-selling-designs/
Customers can support artists by purchasing any product of their choice from http://www.customon.com