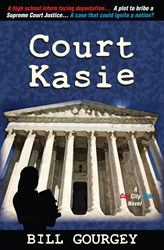 I never imagined how charged the atmosphere for my story might become
WASHINGTON (PRWEB) November 20, 2017
A high school intern facing deportation…a plot to bribe a Supreme Court Justice…a case that could ignite a nation? Through the eyes of fifteen-year-old Kasie Cervantes—an exceptionally gifted high school student—author Bill Gourgey captures the growing fear that haunts the United States' more than eleven million undocumented immigrants. The story centers on an explosive new Supreme Court case that, while fictional, could easily pass for headline news—it's based on a mass shooting at the Mexican border. Between her unique abilities and awful timing, Kasie is swept into the case and finds herself having to choose between her own future and the future of the only country she's ever called home.
"I never imagined how charged the atmosphere for my story might become," Gourgey says. Now that the Trump Administration has suspended DACA, implemented a multi-nation immigration ban, and ratcheted back visa programs "fact has begun to imitate fiction," he adds. "When I completed my first draft shortly before the 2016 election, we lived in a very different climate."
Court Kasie is the third in Gourgey's Cap City Kids series of standalone novels that follow the lives of talented, hard-luck teens who take on Washington, DC's elite institutions.
"Gourgey masterfully conveys not only the angst of being a teenager but also the courage and resourcefulness that a talented, impassioned young person can muster," writes Karen Lyon Literary Editor of The Hill Rag in her September 2017 review of Attic Ward, the second book in the series. BookLife called Capitol Kid, the first book, "a well-constructed game of wits."
In addition to his Cap City Kids young adult mystery-thriller series, Bill Gourgey is the author of the Glide Trilogy, which won the 2014 Beverly Hills Book Award in Science Fiction and has been praised by critics and readers for its entertaining and thought-provoking projections of modern science and technology. A former IT consultant to Fortune 500 companies, Gourgey is also a science writer and Managing Editor of Delmarva Review.