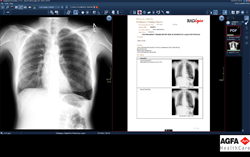 Our Virtual Resident is capable of cutting turn-around-times, improving radiologists' productivity, and enhancing the value of reports with consistent quantitative information.
CHICAGO (PRWEB) November 20, 2017
At RSNA 2017 RADLogics (Booth #8146) , and Agfa HealthCare (Booth #3300) will demonstrate RADLogics Virtual-Resident—a clinical decision support solution for radiologists that promises long-awaited leaps in productivity and quality —integrated with the Enterprise Imaging solution.
The demonstration will show CT and X-Ray imaging studies displayed in Agfa HealthCare's Enterprise Imaging solution, leveraging RADLogics Virtual-Resident system. Findings are measured and characterized and a preliminary report, including key-images, is automatically created and displayed in Agfa HealthCare's Enterprise Imaging system to be reviewed by the radiologist.
The demonstration will also show how the RADLogics Virtual-Resident can significantly reduce turn-around-times for critical studies by combining Agfa HealthCare's Task-based rules engine.
"With our flagship Enterprise Imaging platform, Agfa HealthCare offers best-of-breed technology that can be coupled with algorithms from innovative companies like RADLogics to deliver unprecedented value and power to healthcare organizations around the globe. Tools for advanced analytics, workflow automation, visual collaboration and reports are designed to help radiologists, physicians and clinicians increase throughput and streamline care delivery. Agfa's customers are building data lakes with imaging records, making it available for multidisciplinary reviews, clinical research, and teaching, helping foster a cohesive quality driven workflow culture," explains James Jay, president imaging IT solutions at Agfa HealthCare.
"The solution provides the computational equivalent of a medical resident that traditionally prepares preliminary findings for radiologists in academic medical centers," says Moshe Becker, CEO and co-founder, RADLogics. "Our Virtual Resident is capable of cutting turn-around-times, improving radiologists' productivity, and enhancing the value of reports with consistent quantitative information. The solution fully supports existing workflows."
The RADLogics cloud-based Virtual-Resident uses machine learning image analysis and advanced big data analytics to search and analyze imaging data associated with CTs, MRIs and X-rays. The speed and accuracy of the machine learning technology is continuously improved by RADLogics radiology knowledgebase, which is updated with studies from radiology departments and imaging centers around the world.
In addition to the speed and productivity improvements, the cloud-based solution also removes variability in how different radiologists interpret studies. It provides objective measurements and characterization of findings, which means greater consistency in comparing studies for the same patient tracked over a period of time.
About Agfa HealthCare
Agfa HealthCare, present in one hospital out of two, is a leading provider of eHealth & Digital Imaging solutions. Care organizations in over 100 countries rely on Agfa HealthCare to optimize their efficiency and improve delivery of patient care.
About RADLogics
RADLogics' mission is to use machine learning to create clinical decision support solutions that help radiologists provide higher value reports to better serve referring physicians and patients. The company provides one of the first commercial machine learning image analysis clinical support solutions for radiologists. The system uses proprietary algorithms that are constantly improved based on a knowledgebase of real clinical studies from hospitals around the world. The technology makes it possible to process enormous amounts of imaging data in seconds, and deliver a preliminary report to the radiologist for review.
RADLogics refers to this capability as Virtual Resident.
For more information, visit http://www.RADLogics.com, email us: info at RADLogics.com or stop by RSNA Booth #8146.
Contact information
http://www.RADLogics.com
info at RADLogics.com
RSNA North Hall, Booth #8146