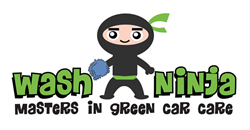 JACKSONVILLE, Fla. (PRWEB) November 21, 2017
Wash Ninja®, a registered trademark of Wash Ninja, Inc., has officially entered the car care industry with two powerful easy to use non-toxic and biodegradable eco-friendly waterless car wash + wax products Made in the USA now available on Amazon. The organization has partnered with Amazon to offer consumers the benefits of excellent customer support, fast shipping, and fulfillment by Amazon. Wash Ninja® also provides direct customer service and feedback for consumers, retailers, and distributors.
The green-friendly startup has applied their premium waterless car wash ECO auto detailing service on hundreds of vehicles receiving proven results of consistent 5-star reviews prior to putting the service into a bottle. The company hosts an extensive photo gallery of serviced vehicles on the Wash Ninja® website, and their social media channels that reach thousands of fans.
The innovative formulas allow conservation of a significant amount of water with every waterless car wash, and eliminate waste water run off protecting the environment. A waterless car wash as with a traditional hose method can be done outdoors, but can also be performed conveniently indoors in a garage.
Wash Ninja® offers both a ready to use (RTU) formula and a concentrate. Wash Ninja® EcoSpray Waterless Wash + Wax RTU (barcode 6-55295 76011-7) requires no diluting and is a ready to use non-toxic and biodegradable product available in 16 ounce (473 ml) bottles. The product safely lifts dirt away from paint scratch free providing a professional look with no mess in minutes. The formula controls water spots that can be found in traditional hose method car washes. EcoSpray polymers leave a smooth finish with UV protection. The premium eco-friendly product is provided with a coconut lime fragrance making washing more enjoyable.
Wash Ninja® EcoWash Waterless Wash + Wax Concentrate (barcode 6-53829 93789-9) is capable of washing over 20 mid-size sedans with one 16 ounce (473 ml) bottle. EcoWash dilutes 1-2 ounces of product with 10 parts water in a spray bottle. For more heavily contaminated vehicles, EcoWash concentrate can also be mixed 1-2 ounces of product with 3-5 gallons of water in a bucket applied with a microfiber wash mitt and then dried with a microfiber towel. Both waterless car wash products can be applied to dry or wet surfaces. The premium eco-friendly product provides a blueberry fragrance. Pre-rinsing a vehicle is recommended when covered in dirt, mud, or sand with both products.
The company has a released how-to videos and instructions on the official Wash Ninja® company website and social media channels. Wash Ninja® eco-friendly Ninja in a Bottle products make it easy to clean any car, truck, motorcycle, and other related motorized or electric vehicle.
The mission of Wash Ninja® is to do more with less natural resources minimizing the strain on the environment with professional green-friendly car care products and services. The company maintains a strong commitment to preserve the planet and give back to the environment.
Visit the full Wash Ninja® Newsroom. View the company website to learn more.
About Wash Ninja, Inc.
Wash Ninja® provides premium eco-friendly waterless car wash products and professional automotive detailing services with zero water waste delivering the finest results.