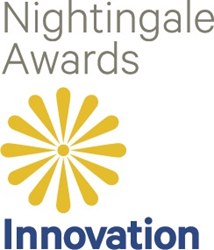 ATLANTA (PRWEB) November 21, 2017
For the second year in a row, Kwalu® is the recipient of the prestigious Nightingale Award. Kwalu is pleased to announce the GetWell Patient Room, featuring a number of our healthcare products in our proprietary finish, is this year's Innovation Award Winner in Surfacing Materials. The award was presented at the annual Healthcare Design Expo and Conference. Presented by Healthcare Design and Contract Magazine in partnership with the Center for Health Design, the Nightingale Awards recognize contributions to the healthcare built environment through product design and innovations that actually aid in healing.
Nightingale winners were selected by a jury of seasoned healthcare design professionals and healthcare facility managers, based on the product's contribution to a healing environment, its functionality, quality, durability, aesthetics and style, pricing and innovation. The winners were announced at HCD 2017 in Orlando, Florida on November 13th.
Kwalu's GetWell Patient Room was chosen for its innovative surfaces that can withstand harsh healthcare chemicals and provide long term cleanability. Featured in the room are the New York Bedside Cabinet, the Valdina Patient Chair and the Carrara Sleeper Sofa, all purposely designed for the critical requirements of patient rooms. Chair frames look like wood but are actually made from a ground-breaking, solid surface, high-impact-resistant polymer which means they don't have any of the drawbacks of wood. The frames are moisture impervious, graffiti-resistant, easy to clean, maintenance-free, and are available with optional UV protection. All of Kwalu healthcare furniture shares the same surfaces as the products featured in the GetWell Patient Room.
Kwalu's non-coated, non-porous surfaces have been proven to stand up to rigorous cleaning protocols for 10 years. Kwalu® has joined forces with Clorox Healthcare® to fight the spread of HAIs. Kwalu is the ONLY furniture manufacturer listed as compatible with Bleach and Accelerated Hydrogen Peroxide on Clorox's website.
Kwalu CEO Michael Zusman is proud the company is being recognized for its foundation, the surfaces. "Kwalu began looking for ways to create a 'healthier' furniture option for the healthcare market more than 30 years ago. This award honors our continuing efforts. We strive to make furniture that addresses the 'real' healthcare needs of patients and families who enter healthcare environments every day." He says, "Kwalu furniture is designed with the health of the user in mind. The GetWell Patient Room will maintain its pristine looks and will support hospitals' infection prevention protocols with furniture surfaces that are easy to clean, year after year."
Kwalu is the leader in the design and manufacturing of healthcare furnishings including, seating, tables and casegoods and is headquartered in Atlanta, GA. Over 30 years of business experience has done little to dim our entrepreneurial spirit or our passion for innovation. It's who we are and what we do. Kwalu, Redefining Clean Design®.