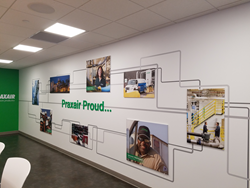 NEW YORK and BOSTON and STAMFORD, Conn and N.J. (PRWEB) November 20, 2017
Your Walls, Our Graphics, Your Image!
With all the possibilities, how do you begin to construct your vision for the space?
So now that you know the possibilities are endless, here are 3 great tips to consider before creating that vision:
1. Connect your brand to your space: Most of the potential spaces are large and visible, making them a great place to design your graphics around your brand and identity. Here, you can make a bold statement that will lead to a longer impression on the audience viewing it.
2. The Budget for the project: Rest assured, there certainly are graphic enhancement products that can fit any creativity and budget. Wall Murals, Custom Privacy Glass coverings, Company logos and dimensional lettering, Canvas gallery wrap frames are just a few of the progressive graphic technologies used to visually enhance any space
3. The RIGHT Company for the job: Combine a creative approach to concept, design and delivery and select the ideal partner for your project. While it may seem like an overwhelming challenge to decide where to begin, Merritt Big Color is prepared to help, making it as easy and seamless as possible. Merritt Graphics BIG COLOR has the expertise and capabilities to print any image, any size, any quantity and on any surface.The ability to fully understand the client's facilities, history, needs, and budget guarantees a successful graphic exhibit.
Projects can range from:

Custom printed interior canvas
Vinyl Wall Graphics
Custom printed wallpaper
Custom Glass coverings
Custom Fabric Wall Frames
Custom privacy Glass Film
Applied wall graphics
Acrylic logos
Specialty Hardware Fabrication
Turnkey Installation Service