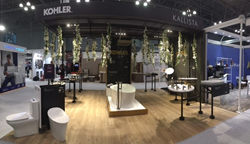 KOHLER, Wis. (PRWEB) November 20, 2017
Now in its eighth year, Boutique Design New York (BDNY) is the leading trade fair and conference for the hospitality design industry, serving the eastern United States, Canada and Europe. Presented annually by Boutique Design at NYC's Javits Center, BDNY brings interior designers, architects, purchasing agents and hospitality owners/developers together with manufacturers and marketers of high-caliber design elements for hospitality interiors.
Kohler Co.'s 400-square-foot exhibit showcased products from KOHLER and KALLISTA brands' global collections. KOHLER brand products included the new Veil intelligent toilet and freestanding bath; Modern Life bathroom suite; Avid, Composed and Pinstripe faucet collections; Briolette and Shagreen Artist Editions series; and the plumbing brand's newest experiential showering panel, Real Rain. Luxury kitchen and bath brand KALLISTA featured its renowned collections including One™ Decorative faucet; the Pinna Paletta™ collection by internationally recognized designer, Laura Kirar; new Porcelain Decorative Knobs from its Script® bathroom collection; the Taper faucet in various finishes designed by architect and product designer, Bjarke Ingels; and its Per Se® Decorative knobs handcrafted by the artisans at Saint-Louis.
BDNY judges critiqued each exhibitor's space based on booth design which specifically includes quality/finish, innovation and uniqueness, and the use of space. Simultaneously they judge the brand communication which includes how clear the branding is, if the product shows well, and if the product's use is obvious.
According to the BDNY judges, the goal of the competition is to award booths not just on form and not just on function but to find the booths that display the best of both worlds, the hybrid of form and function that communicates the brand and is aesthetically pleasing.
About KALLISTA
KALLISTA is known for its designs of luxury plumbing products, offering faucets and fixtures thoughtfully created for tasteful, whole-bath solutions. Kallista is a division of the Kohler Co. Interiors Group, a wholly owned subsidiary of Kohler Co. Kallista, Ann Sacks Tile and Stone, Inc., and Robern mirrored cabinetry and vanities are part of the Kohler Interiors Decorative Products sector.
About Kohler Co.
Founded in 1873 and headquartered in Kohler, Wisconsin, Kohler Co. is one of America's oldest and largest privately held companies comprised of more than 30,000 associates. With more than 50 manufacturing locations worldwide, Kohler is a global leader in the manufacture of kitchen and bath products; engines and power systems; tile; and owner/operator of two of the world's finest five-star hospitality and golf resort destinations in Kohler, and St Andrews, Scotland.
Contacts:
Vicki Valdez Hafenstein
KOHLER
victoria.valdezhafenstein(at)kohler(dot)com
Robin Richter
KALLISTA
robin.richter(at)kohler(dot)com