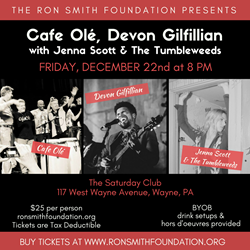 "Getting to play a show in his honor is huge for me," Devon Gilfillian
WAYNE, Pa. (PRWEB) November 21, 2017
The Ron Smith Foundation is proud to announce its inaugural holiday benefit concert featuring Café Ole and Capital Records recording artist Devon Gilfillian, with Jenna Scott and the Tumbleweeds, on Friday, Dec. 22 at the Saturday Club in Wayne starting at 8 pm.
The 501(c)(3) non-profit foundation, launched in honor of a legendary Philadelphia guitarist and songwriter, is offering tax-deductable tickets for $25 at ronsmithfoundation.org. Proceeds will be donated to the new Radnor Memorial Library in Ron Smith's name.
Smith, known for scorching, soulful guitar solos, co-founded Philadelphia's own band known as Café Ole in 1976. Though the band stopped touring in 1984, its reunion shows starting in 2002 became an annual holiday extravaganza in recent years. Since his passing on Oct. 15, 2015, Café Ole has carried on the holiday tradition with original including guitarist Sam Crothers, bass player Bill Hayward, sax and harmonica player Scott Schotter, lead vocalist and percussionist Nelson Gilfillian, keyboardist Kevin Wright and drummer Danny Bendig.
This year's event, presented by the newly formed foundation, will highlight the deep family connections within the band. Nelson Gilfillian's son, Devon, who recently signed to a two-record deal with Capitol Records, will add his infectious blues to this year's event. Also on the bill is Scott Schotter's daughter, Jenna, an up-and-coming Nashville star who will appear with her band, the Tumbleweeds. The second-generation performers will also cover a few from Ron Smith's original catalogue, which was also forged with other local bands including The Road Dogs, Two for Blues and the Little Monkeys.
"Getting to play a show in his honor is huge for me," said Devon. "I wish that he was there in person to see it all, but it makes me feel good to know that his spirit has just kind of sunken into mine as a musician and as a player. I will get to do some of his songs and it feels good to get to bring him back to life for a night."
ABOUT THE RON SMITH FOUNDATION – Attorney Michelle Nofer, Ron's life partner, founded the Ron Smith Foundation in 2016 to honor the life and times of Ronald Michael Smith — keeping Ron's memory alive, benefitting things Ron was passionate about. Each year the Foundation selects a micro project where a small donation can make a difference, this year it's The Radnor Memorial Library. Ron, who living in Wayne for many years, walked to the Radnor Memorial Library to work and study. Ron was a songwriter and entrepreneur who lived modestly and used a library cubicle as his office, he was a regular fixture there. The Foundation is donating this year's proceeds in Ron's memory to support future dream seekers. Next year the foundation will address opioid addiction in Delaware County, Pa.
CONTACT: Scott Schotter, 561-699-2716, scott(at)metagroupmedia.com, ronsmithfoundation.org
#radnormemoriallibrary, #mainlineentertainment, #delawarecountyentertainment, #holidaybenefit, #cafeole, #devongilfillian, #capitolrecordingartist, #ronsmithfoundation, #jennascott