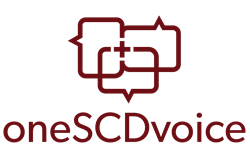 'an empowering online community' created by a unique collaboration between sickle cell healthcare providers and advocacy leaders, Pfizer, Inc. and health technology company, rareLife solutions.
SOUTH NORWALK, Conn. (PRWEB) November 29, 2017
People affected by the devastating genetic condition sickle cell disease (SCD) will be able to have free access to a robust support and knowledge network when oneSCDvoice.com launches in December, rareLife solutions, creators of the "onevoice" platform system, announced today.
SCD patients, their family members, caregivers, and advocates may pre-register now at http://www.oneSCDvoice.com to join what its organizers describe as "an empowering online community" created by a unique collaboration between sickle cell healthcare providers and advocacy leaders, Pfizer, Inc. and health technology company, rareLife solutions. "This collaborative digital education platform provides professionally vetted links to credible information about SCD," Dan Donovan, Co-Founder & CEO of rareLife said. "Specifically, this information will help patients increase their knowledge of the disease, lifestyle issues and help demystify clinical trials."
SCD is a disorder primarily affecting men and women of African descent, but also those of Latino, Arab or Indian ancestry: in the U.S., approximately one of every 12 African-Americans carries the SCD gene, with as many as 100,000 currently living with the disease, according to the Sickle Cell Disease Association of America.
Collaborating Drives Digital Community Support & Education Platform
oneSCDvoice – promoted as "A Sickle Cell Community Tailored to You" – is exclusively geared toward helping people impacted by SCD, Donovan explained. "We built this platform after seeking and receiving SCD community input with regard to their particular needs as voiced by them," he said.
"So far, our collaboration has brought together more than 25 active and passionate SCD medical and advocacy advisors, Pfizer Rare Disease and our own team at rareLife. The community advisors are providing invaluable insights on elements such as subjects, topics, sources, language – even the platform's colors and graphics. It really becomes 'their home' online for SCD. The Clinical Trial Education section, which provides valuable resources to educate on topics such as diversity, safety, and participation in clinical trials, was the result of efforts led by Pfizer, who has deep expertise in this area," said Donovan.
SCD community collaborators for oneSCDvoice include individuals from the Sickle Cell Disease Association of America, the International Association of Sickle Cell Nurses and Professional Associates, the William E. Proudford Sickle Cell Fund, Inc., Sickle Cell Disease Association of Illinois, Sickle Cell 101, SikCell, #boldlipsforsicklecell, The Martin Center Sickle Cell Initiative, The Foundation for Sickle Cell Disease Reasearch Foundation, Sickle Cell Support Services, Sickle Cell Community Consortium, sickle cell medical and scientific experts, and well-respected advocates and social media leaders. rareLife welcomes additional advocacy collaborators.
oneSCDvoice is Like Having Your Own "Cybrarian"
T Anthony Howell, Co-Founder and rareLife solutions' COO, revealed that oneSCDvoice provides a unique education feature that inserts trusted links directly into conversations – like a librarian who hands a student a resource.
"Our community advisors create a library of Trusted Resources that houses thousands of links to SCD medical information, research, patient advocates, care providers, organizations, news, community activities, and more. In addition, oneSCDvoice provides a SMART Social Wall where community-driven conversations occur," Howell said.
"The unique feature is that our software - we call it the 'cybrarian' - analyzes the posts, goes into the Trusted Resources to find vetted content relevant to the posted topics, and then inserts great videos, experts, news articles, etc. directly into the conversation – at the point when people are talking about it and receptive to learn more."
The FDA Prioritizes the "Patient Voice"
With passage of the 21st Century Cures Act, the federal Food & Drug Administration is mandated to create a framework by which patients can be heard. Now, in addition to traditional clinical trial data collected through human trials, the FDA can consider other information to help guide regulators in their assessments of new treatments.
"The availability of patient experience data from a trackable longitudinal cohort of patients," Howell said. "Will enable rareLife researchers to provide insights to the community in the form of infographics and other educational tools – which help create an engaged and learned membership."
oneSCDvoice Benefits the SCD Community
A longstanding difficulty faced by those living with SCD has been the availability of reliable SCD information, Howell asserted.
"oneSCDvoice represents a solution to this situation," he said. "We've been collaborating with the SCD community's leaders in medicine and advocacy and using advanced-degree researchers to find the best information and then link to it – we're an 'amplification' site that does not compete with the existing community. We take the best of what they have created and by attaching a social community to the resources they seek, we expect lasting engagement."
oneSCDvoice is also expected to help diminish the isolation and stigma SCD patients experience. "Patients and advocates told us that there is a stigma associated with SCD, of 'being different,'" Howell said. "oneSCDvoice will allow neutral, knowledgeable, and diplomatic Community Managers who are trained to make sure nobody who engages with this platform takes his or her journey alone."
For more information, contact Rich Smith by email at rich(at)newsdesk365.com. To sign up for no-cost access to oneSCDvoice – go to http://www.oneSCDvoice.com.
Founded 2013, rareLife solutions is the health tech, design and research team behind oneSCDvoice, the onevoice modular community system, and additional customized rare disease platforms. rareLife solutions offers integrated strategic and tactical community engagement plans, medical communications and publication planning consulting services and collaborative platform as a service (PaaS) solutions for advocacy groups, pharmaceutical and device companies, medical and research centers, contract research organizations and professional healthcare associations. To learn more, please visit us at http://www.rareLifesolutions.com and http://www.onevoice.world, follow us on Twitter at @rareLifeTalks and @onevoiceworld, join us on LinkedIn, and like us on Facebook at Facebook.com/rareLifeSolutions and Facebook.com/onevoiceworld.