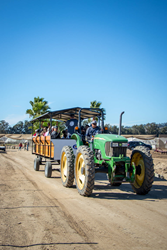 Farm Day represents a unique opportunity for us as farmers to connect with our local community
OXNARD, Calif. (PRWEB) November 20, 2017
On Saturday, November 4, 2017 Reiter Affiliated Companies (RAC) participated in the 5th Annual Ventura County Farm Day, an annual multi-location event organized by Students for Eco-Education and Agriculture (SEEAG).
"Farm Day represents a unique opportunity for us as farmers to connect with our local community," said Courtney Catalano, director of communications and community engagement.
RAC hosted visitors at Santa Rosa Ranch, a raspberry and blueberry ranch operated by Reiter Brother's Inc., in Camarillo. Throughout the day, guests toured the ranch and saw raspberries in full production as well as some of RAC's oldest blueberry plantings while learning about general growing practices.
Catalano also shared, "We had a wonderful time meeting the community and proving a memorable agricultural experience for all of our guests. Our team is passionate about growing berries and we value every opportunity that comes up to talk about farming."
During the tour, guests learned about the Reiter family history, general growing practices and how RAC adopted health and wellness programs, opened primary health clinics and continues to partner with local organizations to improve the quality of life for the farmworker community.
Driscoll's also participated in Farm Day at Santa Rosa Ranch and offered visitors info on the genetics and research behind the berries, a taste test and fun activities for the family.
To learn more about the RAC, please visit http://www.berry.net
About Reiter Affiliated Companies
Reiter Affiliated Companies (RAC) is the largest fresh multi-berry producer in the world, growing Driscoll's proprietary varieties of strawberries, raspberries, blueberries, and blackberries year round in the United States, Baja California, Central Mexico, Portugal, Morocco and Peru.
The Reiter family began farming in the San Francisco Bay Peninsula and by the turn of the century had migrated south into Watsonville and the Santa Clara Valley. By the late 1970's, operations expanded into Southern California where the headquarters is today. The company values of Honesty, Fairness and Respect line the corridors of every office, guiding and leading business principles and decisions. Those decisions have resulted in the organization's position as an industry leader, adopting health and wellness programs, opening primary health clinics and partnering with local organizations to improve the quality of life for the farmworker community.