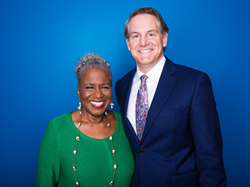 "I want to work with someone who pays more attention; I want the personal relationship."
Atlanta, Ga (PRWEB) November 21, 2017
The partnership formed when Hoffman's show "Money Unleashed" began airing on News/Talk 95.5 FM and AM 750 WSB in October. The program focuses on financial planning and how retirees and pre-retirees can strengthen their finances and retirement.
"Money Unleashed" and Chris Hoffman take a personal approach to retirement, and that is a belief veteran news anchor Kaufman Pearson can support.
When it comes to financial advisors, Kaufman Pearson said, "I want to work with someone who pays more attention; I want the personal relationship."
Chris Hoffman preaches that philosophy at Hoffman Financial Group and believes advisors should uphold the highest levels of integrity, honesty, and ethics with clients. This belief shines through in the way he runs his business and in his dedication to educating others via his radio program.
You can catch "Money Unleashed" every Sunday at 5 p.m. on News/Talk 95.5 FM and AM 750 WSB.
Securities offered through GF Investment Services, LLC. Member FINRA/SIPC. Investment advisory services offered through Global Financial Private Capital, an SEC-Registered Investment Adviser. Insurance and annuities offered through Hoffman Financial Group, Inc., GA Insurance License #163546.