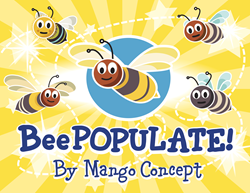 If the bee disappeared off the face of the Earth, man would only have four years left to live.
NEW YORK (PRWEB) November 21, 2017
Join Mango Concept on a mission to BeePopulate the Earth! In this exciting new mobile game, the user can create and maintain their very own garden for the bees to pollinate while learning about their vital importance to our environment. Fun and informative, this an application that can finally be appreciated by both children and parents. Plant different flowers to attract new bees, and try to get a snapshot of each one! Capture and learn more about bees in the Encyclobeedia - your very own guidebook of interesting bee facts. Then, check your knowledge with a series of mini games and trivia questions to collect coins and purchase new flowers.
Mango Concept is proud to present BeePopulate, a new mobile game designed to bring awareness to the importance of bees while maintaining a fun, active environment for its users. Bees play an imperative role in our environment and our life, pollinating a third of everything humans consume. With bees disappearing at an alarming rate due to a combination of parasites, viruses, and pesticides, the importance of the bee is more pronounced than usual. BeePopulate draws attention to their importance while providing a captivating platform for its users to understand more about these powerful insects. Download BeePopulate now, a game with a conscience. Help save the bees, one flower at a time.
BeePopluate is available for free in the App Store and the Play Store now. Compatible with all iOS and Android devices.