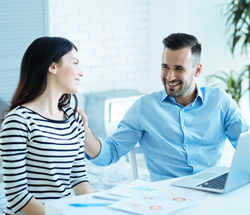 Increasing customer retention by just 5%, leads to a 25% to 95% jump in profits.
Hoboken, New Jersey (PRWEB) November 21, 2017
A NYC area retail technology consultant and MSP discusses the business benefits of expressing gratitude in a new article on the eMazzanti Technologies website.
In the informative article, the company reviews the tangible benefits of frequently expressing gratitude in business settings. Customer loyalty and engagement, increased productivity and improved employee retention are said to result from showing appreciation to customers, employees and others.
According to the article, these and other effects of expressing gratitude can impact the bottom line in a big way. For example, increasing customer retention by just 5%, leads to a 25% to 95% jump in profits. A more positive company culture is also said to enhance collaboration and improve customer service.
"The business opportunities that we enjoy, and the support of our communities means a great deal to our customers and employees, and their families," stated Jennifer Mazzanti, CEO and Co-founder of eMazzanti Technologies. "We express our sincere thanks to all those who have contributed to our mutual success."
Below are a few excerpts from the article, "5 Business Benefits of Gratitude."
"Just as gratitude can elevate an individual's physical and emotional well-being, it can also improve both the workplace atmosphere and an organization's bottom line. Following are just five of the many tangible benefits of expressing gratitude at the office."
Customer Loyalty and Engagement
"According to Harvard Business Review, generating new customers will cost your business five to 25 times the cost of retaining existing customers. Further, if you can increase your customer retention by just 5%, you could see your profits increase by 25% to 95%. Those statistics offer compelling incentive to show customers a little love!"
Increased Productivity
"The business benefits of gratitude extend beyond customer loyalty. Like customers, employees also respond when they feel appreciated. In fact, a Glassdoor survey indicated that 81% of employees will work harder when their boss shows appreciation."
Stronger Business Relationships
"Expressing gratitude to your technology partners and others enhances the benefits of the services they provide. They work hard to supply revenue-enhancing technology options while ensuring minimal downtime and maximum data security. When they provide excellent customer service, let those responsible know."
More business benefits of gratitude >>
This Thanksgiving season, eMazzanti Technologies encourages business leaders to begin a habit of expressing gratitude. Extending that habit through the holidays and all year long will bring lasting benefits to an organization, including an improved bottom line. Owners, CEOs, managers and employees who do so may also find themselves smiling a bit more broadly.
Related resource information:
Scary Tech: The Stuff of Nightmares
Secure Cloud Computing: Trust but Verify
About eMazzanti Technologies
eMazzanti's team of trained, certified IT experts rapidly deliver retail and payment technology, digital marketing services, cloud and mobile solutions, multi-site implementations, 24×7 outsourced network management, remote monitoring and support to increase productivity, data security and revenue growth for clients ranging from law firms to high-end global retailers.
eMazzanti has made the Inc. 5000 list eight years running, is a 2015, 2013 and 2012 Microsoft Partner of the Year, 2016 NJ Business of the Year, 5X WatchGuard Partner of the Year and one of the TOP 200 U.S. Microsoft Partners! Contact: 1-866-362-9926, info@emazzanti.net or http://www.emazzanti.net Twitter: @emazzanti Facebook: Facebook.com/emazzantitechnologies.