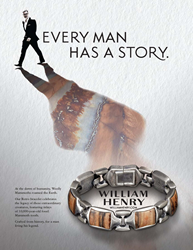 "William Henry designs are a talisman of male masculinity," said Jerry Ketel, Leopold Ketel creative director. "The new ads highlight the fact that not only does every William Henry piece have a rich story, but so do the men who possess them."
PORTLAND, Ore. (PRWEB) November 22, 2017
William Henry, the men's jewelry and luxury accessories brand best-known for creating some of the world's most exquisite pocketknives, is unveiling a brand advertising campaign to tell the story behind not only its unconventional designs, but the men who possess them.
Launching this month, the new campaign highlights the uniqueness of the William Henry's collections. With sophisticated and ruggedly individualized accessories made from exotic, rare and unusual materials such as 10,000-year-old fossil mammoth tooth, dinosaur bone, salvaged fossil coral and meteorite, every William Henry piece has a rich heritage and interesting story. But rather than focus just on product design, the company's latest brand campaign captures the confidence and the bold spirit of the men who covet and collect them.
"William Henry materials and designs come from all over the globe. Our engravers are some of the most experienced in the world. We use metal forging techniques that samurai sword craftsmen originated 500 years ago, and that's just the beginning," said Matt Conable, founder of William Henry and lead creative designer. "We needed a compelling, bold way to communicate the uniqueness of our story."
The campaign, created by Leopold Ketel, a boutique creative agency based in Portland, Ore., also bridges the connection between William Henry's roots as a coveted designer and maker of some of the most collectable pocketknives in the world and the company's more recent sojourn into men's jewelry and other luxury accessories.
"The connection is exceptional craft," said Jerry Ketel, Leopold Ketel creative director. "William Henry designs are a talisman of male masculinity. Whether its knives, pens or jewelry, that storyline holds true. The ads highlight the fact that not only does every William Henry piece have a rich story and exemplify a respect for exceptional craftsmanship, but so do the men who possess them."
William Henry's new campaign launches this month, and will include both national print and digital media, appearing in such luxury publication as Robb Report, Luxe Magazine and Intelligent Collector, among others.
About William Henry
William Henry is an American luxury brand for men, devoted to the vision of designing and crafting collections that integrate form and function into exquisite and unique pieces, including award-winning pocketknives, jewelry, writing instruments, money clips and cufflinks. The hallmark of the company's work is the seamless integration of classic natural materials, precious metals and gemstones, and state-of-the-art alloys to create superb designs that have made William Henry one of the most admired and sought-after brands in the world of luxury for men. For more information, visit WilliamHenry.com
About Leopold Ketel
Known as an early pioneer in Portland's creative evolution, Leopold Ketel (also affectionally known as LK) has grown its reputation for creating award-winning campaigns for a wide variety of local and regional clients. LK prides itself on being a little big agency, offering sophisticated creative marketing solutions via a personal, independent, down-to-earth approach. LK is located at 118 SW First Ave., Portland or at leoketel.com