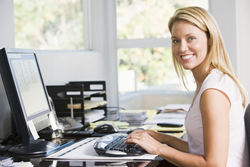 BOCA RATON, Fla. (PRWEB) December 06, 2017
WAHspace Inc., The largest online community for at home workers has announced multiple companies that have earned the WAH Certified Company credential, demonstrating their commitment as industry leaders supporting at home workers.
Here is the list of the 2017 WAH Certified Companies and a sample of open opportunities:
1. Agilla Pro, LLC: Inside Sales Representatives
2. American High-Tech Transcription & Reporting, Inc.: General Transcription
3. Bookminders: Business Development Specialists
4. Cass Information Systems, Inc.: Offsite Invoice Payment Specialists
5. DVMelite: B2B Sales Representatives
6. Enterprise Holdings, Inc (Enterprise Rent-a-Car).: Customer Service Representative
7. Focus Forward: General Transcription Representatives
8. Gabbyville Virtual Receptionists: Virtual Assistants
9. Grindstone, Inc.: B2B Lead Generation/Appointment Setters
10. Nextwave Advocacy @Home: Political Outreach Telephone Representatives
11. SC Contact Centers: Home Agents
12. Supporting Strategies Partners LLC: PT Client Services Accountants
13. Talk2Rep: Customer Service Agents / Sales and Chat Agents
14. Transcription Outsourcing LLC: Jobs TBA
15. ViaSource Solutions: Inbound Sales Representatives
16. VIPDesk Connect: Customer Care Representatives
17. Williams-Sonoma, Inc.: Customer Service Representatives
The WAH Certified Company credential is available to any company that hires at home workers and meets the following WAHspace criteria:

Pays a reasonable living wage to all regular full and part-time employees/contractors.
Has a positive online reputation review in various forums including WAHspace.
Has been in business for at least two years.
WAH Certified Company benefits include:
WAH workers can apply in confidence that that these WAH Certified Companies meet all the requirements of WAHspace credentialing.
Companies have access to a searchable database of at home workers across the US.
Companies can post unlimited job opportunities to thousands of WAH Certified at home workers.
At home workers can apply for job opportunities on WAHspace with the knowledge that the company has been WAH Certified and that they have a higher potential to get the job because they hold credentials as a WAH Certified member.
About WAHspace
WAHspace is the world's largest online work at home platform credentialing and connecting companies with job seekers. Individuals join WAHspace to connect with other work at home employees, to gain valuable skills, and to find jobs. Companies save time and money connecting with thousands of pre-screened applicants who are certified for competency, personality, typing skills, and are background checked.
WAH Certified Companies are able to post unlimited job opportunities, customize and manage their company profile, and connect directly with job seekers that are seeking credible opportunities. Creating a basic member profile is free for those who are looking for jobs and premier membership comes with free technical support. To find out more about Wahspace visit http://www.wahspace.com