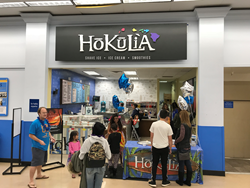 Waves of Flavor
Reno, Nevada (PRWEB) November 20, 2017
Reno will be the first of many Hokulia locations to come to Walmart this year. Hokulia opened its first Reno location inside the Walmart at 4855 Kietzke Lane, and opened their second location on Saturday, November 18th at 155 Damonte Ranch Parkway. Customers will enjoy the convenience of Walmart and the "Taste of Aloha". Hokulia will be offering customers shave ice, flavorful smoothies and unique island ice cream blends at their favorite retailer.
Offering a "Taste of Hawaii," at Hokulia, it's about the shave ice—not ground into chunks, but a delicate shave that melts in your mouth. The shave ice is then topped with a choice from dozens of different flavors, imported from Hawaii, and made with pure cane sugar. "We call them 'Waves of Flavor,'" said Mark Gilleland, Chief Operating Officer for Hokulia Shave Ice. Of course, the products also come in fat-free, gluten free and sugar free flavor combinations, catering to each customer's own preference.
"Portions are generous (sizes include short board and long board) and the shave ice can have the option of a serving of premium island ice cream buried in the ice. The creamy Hawaiian inspired ice creams are of premium quality." Hokulia is part of the Farr Better Ice Cream family; a company created more than 90 years ago by Asael Farr. Farr's is one of the nation's last mid-size ice cream and confectionery companies. Come in and try a cup of Rocky Road to Hana, or maybe some Hula Pie.
Hokulia boasts that the sweet flavors teamed with the delicate ice shave, ice cream in the middle and sweetened condensed milk "Sno-cap" create a creamy and refreshing treat that is unsurpassed! And don't forget the fresh tropical smoothies in multiple flavors, a healthy treat selection for the whole family. Check out our dairy free sorbet by itself or in your smoothie. If you have never had a Hawaiian Sunrise smoothie with mangos, strawberries, and pineapple sherbet, you have never been to Hokulia.
The two Hokulia Reno locations are owned and operated by Bibiana and Chris DeYoung.
Having met on a Telenovela Soap Opera set in Mexico City, Chris and Bibi have long been a married team in the TV and movie business. Then one day, they packed their two little girls in the Dodge and left Los Angeles for Reno. "I am not sure what a better life change was, finding Hokulia or moving to Reno", Chris said.
They are so excited to bring something new & special to the Reno community; "this is a dream come true and a new frontier for us" said Chris. "We are excited to watch it grow and be enjoyed by everyone." They will also be giving out free shave ice samples and prizes. Be sure to visit ether location to enter to win a free trip to Hawaii.
"We are very excited for our new relationship with Walmart and are appreciative of all they have done to invite us to be a part of the Walmart family" Mark stated. "At each new Hokulia Walmart location, customers can find a convenient island oasis to stop, hear the music and enjoy a little taste of the Aloha". We are also excited to launch our GO cups and easy access lids and spoons for 'No Worry spilling' while shopping.
More information on Hokulia, including links to their list of flavors and locations, can be found on the Hokulia website at Reno.hokuliashaveice.com.