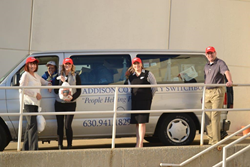 Addison, IL (PRWEB) November 21, 2017
FP Mailing Solutions announces its fourth annual turkey donation to families in need around the Addison community. The donation tradition was founded on the company's belief in having an active presence in giving back to the community.
"FP's donation will have a significant impact for the Addison community. Their generosity will help us personally feed over 30 families in need for the Thanksgiving holiday," said Jim Lombardo, Sr. President at Addison Community Switchboard.
The Addison Community Switchboard is a local, non-profit organization founded in 1970 by residents of the community. Their mission is to provide general short-term emergency assistance to Addison families and seniors in need of food and clothing.
"It is our privilege to partner up with the Addison Community Switchboard to help support those families in need," said Carl Amacker, CEO of FP Mailing Solutions. "FP's annual turkey donation is a long-standing tradition and will continue to be a way we support our local community."
For more information about the Addison Community Switchboard, please visit http://www.addisoncommunityswitchboard.org.
ABOUT FP MAILING SOLUTIONS
FP Mailing Solutions is a subsidiary of the worldwide acting and listed company FP. FP revolutionized mailroom technology with the introduction of the first digital meter. Today FP is one of the leading postage meter, folder inserter, address management and mail stream solutions provider offering a wide range of mail center products and services designed to create seamless mailing solutions. The company is plugged into over 230,000 mailrooms worldwide, and is the fastest growing mail machines and systems vendor in the U.S. FP believes in providing all of their customer's mailability and quality mailing experiences with minimal error. To learn more about FP Mailing Solutions, visit http://www.fp-usa.com.