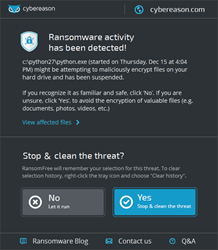 BOSTON (PRWEB) November 21, 2017
Cybereason, creators of the leading cybersecurity data analytics platform including endpoint detection and response, next-generation antivirus, and active monitoring services, today announced free ransomware protection for small businesses and small retailers as the holiday season approaches.
Small Business Saturday® takes place on November 25 and millions of consumers will either shop for holiday gifts or dine at a small business. In preparation for the start of the shopping event and holiday season, Cybereason encourages retailers to install RansomFree, the company's popular free anti-ransomware product, to improve their security defenses and reduce the risk of falling victim to a ransomware attack, which can jeopardize their business productivity and profits.
According to American Express, the company behind the holiday, last year 112 million consumers spent $15.4 million at such businesses.
In 2017, companies of all sizes have already paid billions of dollars in ransoms to criminals. There are many ways small businesses and retailers can reduce ransomware risks now and all year long:
Tips to Prevent Ransomware
Maintain up to date backups of important files and regularly verify that the backups can be restored.
Avoid common malware delivery tactics.
Don't download software from dubious sources.
Don't open email attachments from unknown / unexpected senders.
Deploy an anti-ransomware tool such as RansomFree.
Tips For Dealing With an Attack
Immediately disconnect the affected machine(s). The presence of ransomware indicates an attacker, and disconnecting an affected machine minimizes the encryption of additional files/shared folders on other machines.
Consider paying the ransom, in order to recover your files. And then focus on improving defenses to avoid future ransomware attacks.
Notify all employees to be cautious.
About Cybereason
Cybereason, creators of the leading cybersecurity data analytics platform, gives the advantage back to the defender through a completely new approach to cybersecurity. Cybereason offers endpoint detection and response (EDR), next-generation antivirus (NGAV), and active monitoring services, all powered by its proprietary data analytics platform. The Cybereason suite of products provides unmatched visibility, increases analyst efficiency and effectiveness, and reduces security risk. Cybereason is privately held, having raised $189 million from top-tier VCs, and is headquartered in Boston, with offices in London, Tel Aviv and Tokyo.
Learn more: https://www.cybereason.com/
Follow us: Blog | Twitter | Facebook
Media Contact:
Bill Keeler
Director, Public Relations
Cybereason
bill.keeler(at)cybereason(dot)com
(929) 259-3261