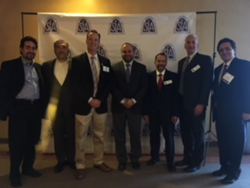 Seismic resiliency impacts everyone. We are in this together and need to work collectively to solve it.
LOS ANGELES (PRWEB) November 22, 2017
Optimum Seismic, Inc., a leading seismic retrofit company for the Greater Los Angeles region, participated in the Structural Engineers Association of Southern California's (SEAOSC) Strengthening Our Cities Summit held Nov. 7-8 in Los Angeles.
The two-day program featured back-to-back presentations and panel discussions on earthquake safety and policy, with topics ranging from retrofitting buildings vulnerable to collapse in earthquakes to ways that engineers can work with stakeholders and policymakers with the goal of creating safer and more resilient cities.
The goal of the summit, focused this year on "The Value of Resilient Buildings," was to convene the financial, real estate and insurance sectors with technical experts to move forward together to address the community's need to be able to prevent losses and recover more quickly after an earthquake.
Optimum Seismic was a gold sponsor of the event, which featured Los Angeles Chief Resilience Officer Marissa Aho, AICP, who is leading the city's resiliency efforts including implementing the Mayor's Resilience by Design Report and as part of the 100 Resilient Cities program pioneered by the Rockefeller Foundation.
Dignitaries in attendance included longtime seismic resiliency advocate California Assemblyman Adrin Nazarian, who helped secure $6 million in funding for the state's Earthquake Brace & Bolt grant program for home retrofits.
A panel discussion titled, "How Better Design Can Save You Money," addressed how building retrofits can be cost effective and result in overall cost savings by avoiding major repairs or demolition of a building following a major earthquake. Other presentations focused on financing options for property owners, collaboration among public and private entities, and various approaches to engineering and design.
"Building owners, engineers, government representatives and professionals in the real estate industry are beginning to embrace the importance of resiliency in protecting both the social and economic well-being of a community," said Ali Sahabi, Chief Operating Officer of Optimum Seismic. "Seismic resiliency impacts everyone. We are in this together and need to work collectively to solve it."
Simpson Strong-Tie, also a gold sponsor, is a leader in structural systems research and technology and one of the largest suppliers of structural building products in the world. Director of Codes and Compliance Jeff Ellis noted that events like the summit are great forums to better share and collaborate as stakeholders work together on solutions to mitigate seismic risk and increase community resilience.
"After seeing so many recent examples of devastating earthquakes around the world and the significant adverse impacts on lives, housing and businesses, many people understand the importance of identifying and strengthening seismically vulnerable buildings," he said. "There is more community awareness that we can do better and recover more quickly by understanding the risks, identifying the performance desired, and implementing the solutions before the next big earthquake."
ABOUT OPTIMUM SEISMIC
Optimum Seismic is Southern California's leading full-service retrofit company. Since 1984, our team has been making cities safer, performing engineering, steel fabrication and construction applications to more than 1,900 buildings including soft-story wood, unreinforced masonry, non-ductile concrete frame and steel moment frame structures. For information, call 323-678-4686 or visit http://www.optimumseismic.com.
.
# #