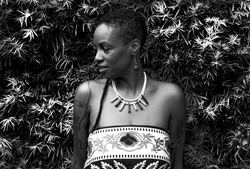 Pure love. A wonderful empowering experience from beginning to end.
LOS ANGELES (PRWEB) December 05, 2017
Announcing the Grand Opening Celebration for Crimson Fig Midwifery Center in the Mid-City area of Los Angeles.
Racha Tahani Lawler is a locally-beloved, forth generation midwife focusing on closing the disparities in birth outcomes for women of color. She trained at Maternidad La Luz and has attended well over 1000 births. She serves the full spectrum of LA families ranging from at-risk youth to public figures like the Co-Founder of Black Lives Matter, Patrisse Khan-Cullers and Emmy Winning Actor, Sterling Brown.
Regardless of their background, all receive the same level of incredible care. Actor Sterling Brown describes his two childbirth experiences with Racha as, "Pure Love. A wonderfully empowering experience from beginning to end."
Racha is a true community midwife. In 2011 she opened The Community Birth Center, which offered a full range of women's health services on a sliding scale, as well as a home-base for countless midwives in training. She has been recognized dozens of times for her dedication to black women's health and women's health in general, including the "Midwife of the Year" award in 2013, and the prestigious "Lillian Mobley Community Service Award" in 2015.
In early 2017, Racha closed The Community Birth Center to train in the historical midwifery practices of her ancestors in South Africa. She immersed herself in the teachings of the Zulu nation and on August 14th, 2017 was officially recognized by the South African government as a Traditional Healer, Sangoma and Umbelethisi/Midwife. Racha was also initiated into the Zulu nation.
Racha has returned to Los Angeles with a new fire. She now blends the powerful ancestral practices of the Zulu into her ongoing impeccable professional midwifery practice. She has recently opened Crimson Fig to combine both elements of her heritage, Southern American and South African. She is committed to providing excellent care regardless of race, socioeconomic status, or gender. And she remains a vocal advocate for improving birth outcomes in the underserved black community.
Crimson Fig enthusiastically invites all who are interested in this consequential work to join Racha and her beautiful community as they celebrate the Grand Opening of Crimson Fig, Sunday, December 10th, at the new location: 2654 La Cienega Blvd, Los Angeles, CA 90034. She hopes you will join her to celebrate/"ukugbubha" in Southern American and South African tradition with live DJs, local vendors, and natural product giveaways. All are encouraged to attend and spread the good vibes and good news.
Crimson Fig provides midwifery services to anyone regardless of race, gender, or socioeconomic status. It is the premier black-owned midwifery service in Los Angeles. Racha Tahani Lawler is a certified midwife and was recently recognized as a Traditional Healer and Midwife by the South African government.