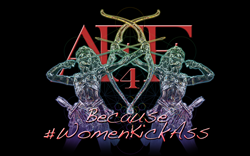 "It is an absolute honor to be recognized as an Action Rebel - I couldn't be more thrilled!", says Director TJ Scott.
Los Angeles, CA (PRWEB) November 21, 2017
The Artemis Women in Action Film Festival will present the Action Rebel Award to Director Timothy James (TJ) Scott (Xena, Hercules, La Femme Nikita, Cleopatra 2525, Orphan Black, Longmire, Star Trek: Discovery) at the Artemis Awards Gala, March 22, 2018 which kicks off the 2018 event.
Scott is distinguished among his peers by showcasing powerful women in lead roles – from Xena and Nikita, to the clones in Orphan Black and the female centric cast of Star Trek. With a background in stunt work and choreography, Scott brings a wealth of knowledge to his action sequences, and clearly isn't afraid to feature women in even the most challenging settings. A rarity in the industry, Scott has brought in female stunt coordinators including, currently, Kachina Dechert for the coming mini-series, Caught. Further, he directed Gina Torres, a 2015 recipient of the Artemis Action Powerhouse award, in her award-winning role of 'Hel' Carter for Cleopatra 2525.
Scott joins past winners of the Action Rebel award who include Actor/Producer Tom Cruise (Mission: Impossible, Jack Reacher: Never Go Back, Edge of Tomorrow, Knight and Day) and Producer/Director Paul Feig (Ghostbusters, Spy, The Heat, Bridesmaids).
Legendary Stunt Performer and motorcycle racing champ Debbie Evans will receive the Stunt Lifetime award for her masterful work spanning four decades and counting. Evans has over 200 stunt credits since she began working in 1973! Notable achievements include work on Ghostbusters II, Back to Future III, Kindergarden Cop, Last Action Hero, 2 Fast 2 Furious, Charlie's Angels II; Banshee and Furious 7: Fate of the Furious.
Evans' ability to break barriers is nearly as impressive as her breathtaking performances. In 1976 she was the first woman to reach the rank of "Expert" in observed motorcycle trials, successfully competing with men. Throughout many of her stunt performing years, she continued to break records as a competing motorcyclist. The prior recipient of the Stunt Lifetime award was Jennifer Caputo (Batman Forever, From Dusk Till Dawn, Charlie's Angels, Thor, Paranormal Activity).
The Artemis Women in Action Film Festival takes place over four days, from Thursday March 22nd through Sunday March 25th 2018. The Thursday night Red Carpet Gala & Ceremony will honor Scott and Evans as well as other industry luminaries. Opening Festivities will occur Friday night while Saturday and Sunday will feature all-day programming and panels.
Says Artemis Founder and Producer Melanie Wise, "Our aim is no less redefining the feminine principal for the modern age. Current American culture has all but stripped physicality, save sex appeal, from femininity." She continues, "We have not truly found the limits of female physical potential, and we do not even encourage its exploration. The Artemis Fest showcases the strength women bring to the table, not just on screen, but in culture as well. Our official hashtag is #WomenKickAss ... and we mean it."
Co-Founder Zac Baldwin adds, "Female action heroes go way back. Women have been kicking ass from the bronze age to the current day! Artemis films bring that to light."
About the Artemis Women In Action Film Festival
Inspired by the enduring popularity of the action genre, Artemis Motion Pictures produces the world's first film festival devoted exclusively to honoring female-driven action and empowerment films. Artemis has been attracting the attention and support of high profile influencers such as Paul Feig, Lucy Laweless, Rosie O'Donnell, Anna Paquin, Jeri Ryan, Patricia Arquette, Wynonna Judd, Lori Petty, Roseanne Barr, Rose McGowan, and many others. Join the revolution at #WomenKickAss
Press Contact: John Halbert; John(at)ArtemisFilmFestival(dot)com
Official Websites:
http://www.ArtemisFilmFestival.com
http://www.ArtemisMotionPictures.com
http://www.WomenKickAss.com