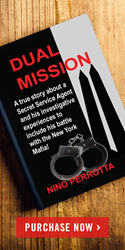 The first time out of the box and we win two book award categories!
ROCKVILLE, Md. (PRWEB) November 22, 2017
Dual mission is a true story of one agent and his unique investigative experience as a United States Secret Service special agent assigned to the New York Field Office which was at one time located at 7 WTC.
Dual Mission is a brutally true story that at times reads as a novel. It is the account of one ordinary person who vanishes into the "uncharted waters" of long term investigations at an agency where such work is an unknown. His personal mission to take down the New York Mafia, the rogue pitcher, Denny McLain and other global investigations become his mission. A mission with a dual purpose.
A team of publishing industry professionals judged thousands of submissions for overall excellence in book presentation, taking into consideration the cover design, interior layout, and aesthetic components all key to an overall outstanding printed book, in addition to the writing.
A full list of the 6th Annual winners and finalists are available on the website, http://www.bhbookawards.com.