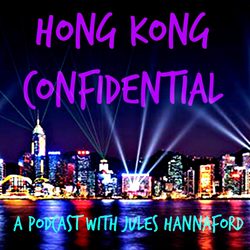 "Jules, you have always had an incredible ability to ask the right questions, your journalistic skills are spot on! You have an ability to make everyone connected to the interview feel valid, important, understood and heard." Loretta Olsson
Hong Kong (PRWEB) November 23, 2017
"Hong Kong Confidential podcast episodes are designed to educate and entertain my audience," says Hannaford. "Since I started putting the podcasts online a few months ago, my audience has downloaded 1,900 episodes in 39 countries… and it's still growing. Guess I'm doing something right!"
To date, Hong Kong Confidential has 13 episodes featuring interviews with a doula (birth companion), a relationship coach, a woman who was forced into an arranged marriage, abuse survivors, a children's book author, female business owners, members of the Sindhi community, LGBTIQ advocates and activists, and many other interesting people with fascinating stories to share.
Hannaford's efforts have already led to one sponsorship from a listener from Teresa's Turkish Towels who was moved by a Hong Kong Confidential podcast. She is excited to see her audience grow and to have her first sponsor support Hong Kong Confidential.
"The podcasts often aren't about happy experiences or events, but we can all learn from them," says Hannaford. "Quite a few of them have funny moments and all of them have uplifting messages. We all need to be heard to heal and listening to the experiences of others can help the rest of us deal with what life throws at us."
Upcoming Hong Kong Confidential podcasts will feature interviews covering such things as human trafficking, a father whose daughter committed suicide, the Playground of Possibilities, expat life, mental health issues, LGBTIQ in Russia and a matchmaker gives us dating tips. Also, Hannaford is planning to do a series about her experiences with abuse, being a single mother, online dating, becoming an expat, menopause, buying property in Hong Kong, and planning for retirement.
Hong Kong Confidential podcasts are usually uploaded on Saturdays and can be found at http://hongkongconfidential.libsyn.com, Apple Podcasts and Stitcher.
For more information, please contact Jules Hannaford at +852 60190322 or email at juliehannaford@hotmail.com.
Webpage: http://hongkongconfidential.libsyn.com
Facebook: https://www.facebook.com/hongkongconfidential/
Twitter: @juleshannaford
Instagram: @hongkongconfidential
Youtube: https://www.youtube.com/my_videos?o=U
Patreon Page: https://www.patreon.com/hongkongconfidential
Subscribe on Apple Podcasts, Google Play and Stitcher
Hong Kong Confidential is sponsored by Teresa's Turkish Towels https://hkturkish.com/
HONG KONG CONFIDENTIAL EPISODES (as of Dec 1st, 2017)
Episode 1: Doula Dialogue
Jules Hannaford interviews Canadian Doula, Christina Kimont about her work as a Doula in Macau and Hong Kong. Christina shares her extensive knowledge and wisdom about pregnancy, birth and motherhood. She also shares her own personal birthing stories.
http://hongkongconfidential.libsyn.com/hong-kong-confidential
Episode 2: Happy Ever After
Dating and relationships coach, Valentina Tudose talks to us about the work that she does with people to help them to become successful in the dating world. She also works with couples, whether they are in a happy relationship and want to make it stronger and more exciting, or with couples who are struggling and need support. Valentina is a charismatic and warm person who loves what she does for a living. Anyone listening to this show will gain some insight to further their relationship or dating lives.
http://hongkongconfidential.libsyn.com/hong-kong-confidential-0
Episode 3: Life Goals
Neha Lata shares her life story with us. She talks about being forced into an arranged marriage and how this affected her self-esteem and self-worth. She took steps to do what was best for her and meditation and mindfulness was a huge key in finding her way to a life she loves.
http://hongkongconfidential.libsyn.com/life-goals
Episode 4: All About You
Sonia Samtani from All About You Wellness Centre talks to us about coping with life's struggles. She discusses many very interesting topics including hypnotherapy, past life regression, healing your inner child, sports enhancement, chakra healing, affirmations, spiritual mentoring and public speaking. An informative and insightful discussion that can help with both healing and self-development.
http://hongkongconfidential.libsyn.com/hong-kong-confidential-episode-4-all-about-you
Episode 5: Keeping Up With Kely
Sky Siu from Kely Support Group talks to us about the vital role that the NGO plays in supporting Hong Kong youth between the ages of 14 and 24. Their programs and services focus on knowledge, resistance and harm reduction around drug and alcohol misuse. Using a positive youth development approach, with a priority of understanding young peoples perspectives, Kely Support Group equip young people with key life skills and resilience as they face various challenges growing up in Hong Kong.
http://hongkongconfidential.libsyn.com/hong-kong-confidential-episode-5-keeping-up-with-kely
Episode 6: Plight and Flight
Author Ritu Hemnani talks to us about her children's book "Gope and Meera- A Migration Story", a beautiful heartwarming story about a cherished homeland that is left behind and why the Sindhi Community is scattered across the world today. It is a captivating tale of tragic loss and determined hope. Ritu gives us an insight into her family background and the evolution of the book. A wonderful interview with a talented author who is passionate about her culture and her work.
http://hongkongconfidential.libsyn.com/hong-kong-confidential-episode-6-plight-and-flight
Episode 7: Just a Girl
Karina Calver describes her troubled childhood as the daughter of Sindhi parents in Hong Kong. She explores the repeated trauma of a father who over stepped the boundaries and a mother who chose not to see. She had to internalize and normalize what happened to her to enable her to function in the family and find her way in life. This is her story. A listener note: This podcast may be distressing to some people as the topic of incest is discussed.
http://hongkongconfidential.libsyn.com/hong-kong-confidential-episode-7-just-a-girl
Episode 8: Integrating Effectively
Alison Oliver from Integrate Hong Kong talks about her work as a counsellor. She explores the concepts of giving space, building resilience and wellbeing. She advises us how we can help young people who are struggling and ways to initiate conversations. She describes the role social media plays in mental health issues and importance of growing a positive mind set and how to go about that.
http://hongkongconfidential.libsyn.com/hong-kong-confidential-episode-8-integrating-effectively
Episode 9: Plustastic
Neerja Sujanani and Deepa Nainani from Plus Group International talk to us about how they started out in business, their secrets to success and give advice to people who are just venturing into the business world. Both women give us an insight into their family culture and traditions and how that impacted their lives and the expectations of them when they were young. Its inspiring to hear about their passion for business, their incredible accomplishments whilst they discuss the challenges that they, as women, have faced in the business world in Hong Kong.
http://hongkongconfidential.libsyn.com/hong-kong-confidential-episode-8-plustastic
Episode 10: The Unsung Heroes
Jane Engelmann talks to us about how she formed a choir comprised of women domestic helpers in Hong Kong, the Unsung Heroes. She gives us an insight into the lives of these women and some of the many sacrifices they have made to work as foreign domestic helpers in Hong Kong. Many of the women have left friends and family behind in their home countries to work 12 hours a day, 6 days a week to support their families. We learn about the creation of their signature song "I Wish I Could Kiss You Goodnight", dedicated to the children that they have left behind. Jane talks about the Unsung Heroes' role in the new documentary film, "The Helper" which gives a voice to Hong Kong's domestic workers and the positive impact that both the film and the choir have made in the lives of these amazing women.
http://hongkongconfidential.libsyn.com/episode-10-the-unsung-heroes-0
Episode 11: Under Control
Jane discusses her experiences with domestic violence as a self-confessed serial dater in her younger years. She talks about the social isolation from family and friends, the abuse, manipulation, power and control she suffered through at the hands of her two consecutive partners. She was dazzled by the money and high life the men offered her in Hong Kong and found herself in abusive relationships, where she could not break free. Jules also discusses her own personal experiences in her 20's. Both women, who see themselves as survivors, talk about red flags, trusting their instincts and dangerous patterns of behaviour. A listener note: This podcast may be distressing to some people as the topic of intimate partner violence is discussed. There is also some swearing.
http://hongkongconfidential.libsyn.com/episode-11-under-control
Episode 12: Two Men and a Baby
Robert discusses growing up in South Africa and coming to terms with his sexuality as an adult in Hong Kong. He shares his coming out story and the reactions of his family to this news. Robert is now happily married and a father of a two year old boy, which is one of the greatest joys in his life. He reveals the challenges that he and his husband face as a gay couple with a son living in Hong Kong and also the many positive aspects of his life. We also explore ways to support young people who may be questioning their gender or sexuality.
http://hongkongconfidential.libsyn.com/episode-12-two-men-and-a-baby
Episode 13: The Accidental Activist
Kamoga Hassan is the founder of the Queer Kampala International Film Festival (QUEERKIFF), the first and only LGBTIQ festival in Uganda, where homosexuality is illegal. Kamoga is a human rights activist and he is passionate about making a difference in a country where people can be driven out of their homes, arrested or even killed for their sexuality. Kamoga talks about his life as a gay man in Uganda and the way that he uses film to tackle social justice issues and raise awareness in the hope of changing hearts, minds and laws in his home country. He talks about how unique the film festival is and the extra security measures required to run this underground festival in Uganda. Kamoga also shares some personal stories about his life in a country where being gay is not accepted. QUEERKIFF runs from the 8th to the 10th of December, 2017 with over 30 LGBTIQ themed films screening this year. Find out more at http://www.queerkiff.com/home/
http://hongkongconfidential.libsyn.com/episode-13-the-accidental-activist
Episode 14: Stop Human Trafficking
Matt Friedman from the Mekong Club talks about his important role in combating human trafficking and modern day slavery. He explains the differences between sex slavery and slave labour and talks in depth about this epidemic that is on the increase globally. He shares his own family's experience with human trafficking and how this impacted him as a young boy. He reveals many shocking stories from his experiences working with NGOs in India, Nepal, Thailand, USA and Hong Kong. He shares personal stories of some of the victims that he has worked with and the shame associated with being force into sex slavery. Matt advises how we can become responsible tourists and make a difference. He gives us several suggestions as to how we can also help the fight against modern day slavery. A listener note: Some people might find a number of the issues discussed in this podcast distressing.
http://hongkongconfidential.libsyn.com/episode-14-stop-human-trafficking
# # #
If you would like more information about this podcast, please contact Jules HANNAFORD at +852 60190322 or email at juliehannaford(at)hotmail.com.
Webpage: http://hongkongconfidential.libsyn.com
Facebook: https://www.facebook.com/hongkongconfidential/
Twitter: @juleshannaford
Instagram: @hongkongconfidential
Youtube: https://www.youtube.com/my_videos?o=U
Patreon Page: https://www.patreon.com/hongkongconfidential
Subscribe on Apple Podcasts, Google Play and Stitcher
Hong Kong Confidential is sponsored by Teresa's Turkish Towels https://hkturkish.com/