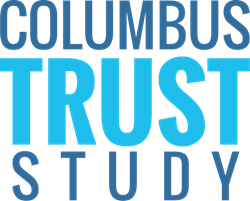 This year, we decided to dive deeper into demographics like gender and generation to help employers understand trust differences among these audiences.
COLUMBUS, Ohio (PRWEB) November 28, 2017
According to the second annual Columbus Trust Study (columbustruststudy.com), released this week by FrazierHeiby and Illuminology, both gender and generation play an important role in a person's likelihood to express trust in their organization's leadership.
Results show Columbus women's trust in their organization's leaders diminishes with age, while Columbus men's trust remains the same over time. Ninety-seven percent of female Millennials report trusting their organization's leaders compared to 87 percent of female Gen Xers and 68 percent of female Baby Boomers. Conversely, Columbus men's trust in leadership stays steady, from 91 percent of Millennials to 86 percent of Gen Xers to 91 percent of Baby Boomers.
In other Columbus Trust Study findings, women employed in central Ohio who trust their company leaders were more likely to report a positive personal experience with them than men. Twenty-five percent of women said they trust their leaders because of a personal experience, while only nine percent of men said the same.
"In year one of the Columbus Trust Study, we took the pulse of trust in central Ohio to find out how our region aligns with national stats," said Lara Kretler, vice president, FrazierHeiby. "This year, we decided to dive deeper into demographics like gender and generation to help employers understand trust differences among these audiences."
The 2017 Columbus Trust Study results revealed 37 percent of Millennials working for large organizations in central Ohio trust their leaders because they feel cared about. This finding compares to only 15 percent of Gen X and 11 percent of Baby Boomers citing this as a reason they trust their organization's leaders.
The study also assessed a variety of factors that drive consumer perceptions of trustworthiness in various business sectors and the most trusted industries in central Ohio. It found that character judgment is always the primary trust driver for organizations, but specific drivers vary by industry with some more competency-based and others more connection-based. Retail, finance and healthcare organizations rank highest among trusted business types in central Ohio.
About the Columbus Trust Study
Created by FrazierHeiby, a strategic communications firm, and Illuminology, a market research firm, the Columbus Trust Study analyzes trust perceptions among central Ohioans. The study synthesizes its findings with other trust literature to help organizations build trust with employees, customers and the community.
"Trust is critical to any relationship — especially in business — and research shows a gradual erosion of public trust in nearly every major institution," said Orie Kristel, Ph.D., CEO of Illuminology. "Understanding how specific demographics affect a person's ability to trust their organization's leadership is a crucial first step to fixing America's trust problem."
Results are based on a poll of 450 randomly selected Franklin County residents and the study has a plus/minus confidence level of 4.7 percentage points at a 95 percent confidence level. The second annual Columbus Trust Study is presented by the Central Ohio Better Business Bureau Center for Character Ethics. Visit columbustruststudy.com to learn more.
About FrazierHeiby (FH)
FrazierHeiby has helped businesses communicate better since 1983. FH recognizes that success lies at the intersection of creativity, informed strategy and integrated marketing solutions. The agency offers more than 50 best practice services in six core areas: marketing, public relations, social media, brand communication, crisis and issues management and internal communication. Backed by certifications, industry awards and proven methods, FH is dedicated to helping clients communicate better by building trust, connecting communities and delivering results. Visit FHcommunicate.com for more information.
About Illuminology
Illuminology uses high quality social science research methods and advanced analytics to help clients illuminate persuasion opportunities. The organization focuses its efforts and expertise in three areas: consumer insight, community affairs and community impact. Headquartered in Columbus, Ohio and projecting across the United States, the market research firm helps organizations sell more and grow faster, communicate better and make and measure community impact.