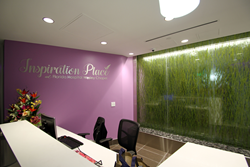 "Inspiration Place makes it possible to take care of our physical, spiritual and mental needs, which is so important for our overall health," said Denyse Bales-Chubb, president and CEO of Florida Hospital Wesley Chapel.
WESLEY CHAPEL, Fla. (PRWEB) November 21, 2017
Florida Hospital Wesley Chapel cut the ribbon this week at Inspiration Place, its new concierge center for women's health. The 12,000 square foot facility offers whole person health care ALL in one place, ALL in one day AND you can get a massage or a mani-pedi, too.
Gone are the days of scheduling a routine exam, then making a separate appointment on a separate day at a separate facility for your routine bloodwork or imaging, such as a mammogram. At Inspiration Place, you can get same day results and have any necessary follow-ups and additional testing that day as well, while enjoying spa services in between appointments.
Inspiration Place is staffed with female specialty physicians including a breast surgeon, OB-GYN, urologist and endocrinologist. There's also imaging services such as 3-D mammography and ultrasound, as well as specialty services like pelvic floor physical therapy.
Denyse Bales-Chubb, president and CEO of Florida Hospital Wesley Chapel, said, "As women, we sometimes find it impossible to take care of everything we need to get done, plus find time to schedule appointments for our own health care needs. Inspiration Place empowers women to make that happen."
Inspiration Place is open Monday through Friday. Spa treatments are available from 10 a.m. – 7 p.m. Imaging and pelvic floor therapy services are available as early as 7:30 a.m. and as late as 6:30 p.m. depending on the day. To find out more information about Inspiration Place or to RSVP for the ribbon cutting and open house, visit https://www.fhinspirationplace.org/.
About Florida Hospital-Wesley Chapel
From state- of- the- art equipment to the most intricate building details, Florida Hospital Wesley Chapel was designed from the ground up to maximize healing, patient care and wellness. The hospital recently completed a massive expansion which nearly doubled the number of operating rooms and emergency rooms as well as adding an additional 62 private inpatient rooms. Built from the ground-up, this full-service community hospital features expert staff, specialty design and state-of-the art technology built for better patient care.
Since opening in October of 2012, Florida Hospital Wesley Chapel has been recognized as a leader in patient satisfaction, quality and safety. The hospital offers a full range of inpatient and outpatient health services, including surgery, imaging and rehabilitation services and emergency services for adults and children. The hospital features a 50,000 sq. ft. community Health & Wellness Center and a wide range of community offerings such as health and wellness presentations, screenings and events.
For more information, please visit http://www.FHWesleyChapel.org.
About Florida Hospital, West Florida Division of Adventist Health System
Florida Hospital, the West Florida Division of Adventist Health System, is a not-for-profit 1,295-bed hospital system composed of 9 hospitals including Florida Hospital Tampa/Florida Hospital Pepin Heart Institute, Florida Hospital Carrollwood, Florida Hospital at Connerton Long Term Acute Care, Florida Hospital North Pinellas, Florida Hospital Wesley Chapel, Florida Hospital Zephyrhills, Florida Hospital Heartland Medical Center Sebring, Florida Hospital Heartland Medical Center Lake Placid and Florida Hospital Wauchula. It also includes a free-standing ER in Palm Harbor. Part of the Adventist Health System, Florida Hospital is a leading health network comprised of 26 hospitals throughout the state. For more information, visit FloridaHospital.com
###