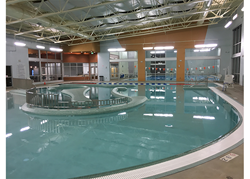 We're incredibly excited to see the ways that this aquatic center brings the community together
WOODLAND PARK, Colo. (PRWEB) November 21, 2017
On a warm Sunday afternoon, Adolfson & Peterson Construction (AP), along with Barker Rinker Seacat Architecture (BRS) and City of Woodland Park celebrated the grand opening of a new 24,530-sf indoor aquatic-only center. The center includes a zero-entry leisure pool, play features, a lazy river, a six-lane competitive lap pool with a diving board and a front entry that includes a party room, child care and administrative space.
In attendance at the event were members of the project team, including those from BRS, City of Woodland Park and AP, along with Woodland Park's Mayor, Neil Levy.
The indoor Aquatics Center is a family oriented natatorium and provides amenities for fun as well as fitness. Leisure pool water depths vary from beach-like zero-depth entries to 4' 6" at the deepest. Play features are provided for a variety of ages including geysers, interactive spray features, a lazy river and waterslide that goes outside of the building before returning inside. The lazy river also doubles as a resistance channel for exercise, therapy and rehabilitation. A competitive, six-lane lap pool is adjacent to the leisure pool and has a 4' to 12' depth and a one meter diving board.
"We're incredibly excited to see the ways that this aquatic center brings the community together," said AP's Project Manager, Ian Warner. "The turn out for the Grand Opening was amazing and it is great to be part of the team delivering a project that the community gets excited about. This is their building and their asset and it just came alive today."
Measures are in place to include a future outdoor spa and an indoor/outdoor slide. Future expansion for the building is to include additional administrative space, purpose-built child-watch, racquetball and fitness, group exercise, a jog-walk track, and a gymnasium.
About AP
Adolfson & Peterson Construction (AP) is a U.S.-based, privately held builder that is consistently ranked among the top 50 construction managers and general contractors in the nation. Headquartered in Minneapolis, Minnesota, the company delivers innovative and collaborative building solutions for clients across the country from its regional offices in Dallas, Denver, Minneapolis and Phoenix. Founded in 1946, AP serves clients in the education, healthcare, commercial, municipal, multifamily, hospitality and senior living market sectors. For more information, visit http://www.a-p.com or follow us on Facebook, LinkedIn and Twitter.