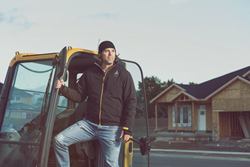 For anyone looking for a tough, durable jacket that will keep them warm, especially when they are hard at work in the cold, Ravean RUGGED was designed with them in mind.
(PRWEB) November 21, 2017
Ravean, the leader in the development of heated jackets, has another hot product on its hands with its new Ravean RUGGED Heated Jacket – which has raised more than $100,000 from crowdfunding backers on Kickstarter.
"We're very pleased to see the response the Ravean RUGGED Heated Jacket has received since we introduced this new, ultra-tough version on Kickstarter," said Ravean Co-founder Bryce Fisher. "We used many suggestions from our previous customers who wanted to see a tougher, more resilient heated jacket especially made rougher outdoor environments, and we're happy they like what we came up with in Ravean RUGGED."
The new heated jacket features multi-zone, on-demand heat that can be directed when and where it's needed most, along with new features including the world's first patented heated thumb-hole cuffs – created to keep the users hands warm while fingers and thumbs are free to handle intricate work.
Made from superior materials from the shell down to the lining, Ravean RUGGED is especially designed for people looking for a tough, resilient heated jacket whether they're on a cross-country motorcycle trip or working on a remote job site in the cold. Compared to its previous heated jackets, Ravean RUGGED offers added battery power for charging phones up to three-times on a single jacket charge, five storm pockets and beefy, durable YKK Zippers.
RUGGED also has another new feature – compatibility with the batteries used by the major power-tool lines including Milwaukee, DeWalt, Bosch and Makita.
The Ravean RUGGED Heated Jacket features:

Heating elements for chest, back and cuffs with single or multi-zone functionality
Three temperature settings
Patented heated cuffs designed for maximum finger dexterity
A DWR water-resistant and wind resistant shell
Inner soft, breathable liner
Two battery locations
Compatibility with major power tool batteries
10050mAh Battery
YKK brand quality zippers
Five storm pockets, including a smaller security pocket, large stuff pocket and two hand pockets
"For anyone looking for a tough, durable jacket that will keep them warm, especially when they are hard at work in the cold, Ravean RUGGED was designed with them in mind," Fisher said. "With an inner soft breathable liner and tough softshell, RUGGED keeps the elements out and the heat in, regardless of the coldest outdoor environment they may find themselves in."
Ravean RUGGED is offering a limited number of super early-bird specials starting as low at $165 (Jacket Only) and $195 (Jacket and Battery) while supplies last.
For more information or to pre-order, visit the Ravean RUGGED Heated Jacket Campaign Page on Kickstarter.
About Ravean
Let's be real here for a moment; we're not the first people to come up with the idea of heated jackets or heated gloves. We're just the first ones to do it right. By doing it right we mean our jackets look good, they're durable, they're affordable and they integrate our technology seamlessly and unobtrusively. Finally, there's a heated jacket you can wear with equal comfort and style from the mountains to the office without missing a beat. Sure, it's been tried before, but other solutions have been pricey, ugly and the technology was problematic. Ravean has addressed and solved each of these issues to present jackets you can wear anywhere, that are as stylish and durable as they are warm and cozy. For more information, visit ravean.com.