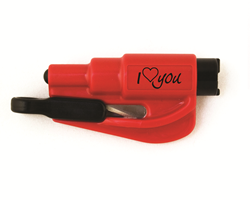 Gift your loved ones with reliable emergency solutions!
SANTA BARBARA, CA (PRWEB) November 22, 2017
The resqme® is made in the USA and is the original 2-in-1 car escape tool which cuts jammed seatbelts and breaks car side windows. Powerful, yet small enough to be put on a keychain, it is a thoughtful gift for every driver.
Starting today, customers are able to choose between three different limited edition messages on the tools, "#1 Dad", "I ❤ You" and "❤ Stay Safe".
The new defendme® limited edition features a caring imprint message: "❤ Stay Safe". The sleek personal safety alarm comes with a 120dB siren which quickly attracts attention in an emergency. It's easy to use and a great gift for students, women, active people and the elderly.
Get involved and help spread safety awareness with these gifts for life!
The tools will come with a red organza gift pouch and a gift card that you can personalize and will be on sale for $11.95 a piece here.