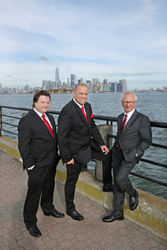 Iselin, NJ (PRWEB) December 04, 2017
Taylored Services has been named a Multichannel Merchant Top 3PL for 2018, included in a listing of leading third-party logistics providers selected by the editors of Multichannel Merchant.
Given the explosion of ecommerce and the increasing number of 3PLs in the marketplace, Multichannel Merchant has created this unique resource vetting 3PLs that are ecommerce qualified and experienced as a value-added service for its audience. The online resource is a searchable database/directory for merchants looking for a qualified 3PL provider.
"Many ecommerce and direct-to-customer merchants today are considering an outsourced fulfillment solution because their business growth has outstripped their internal capabilities," said Mike O'Brien, Senior Content Manager of Multichannel Merchant. "That's why we've developed our Top 3PL listing as a valuable resource for them. Each 3PL listed has been selected based on their industry experience, range of capabilities and ability to handle high order flow."
The company profiles in the MCM Top 3PL listing include vital information to help merchants in their selection process, including key capabilities, average annual client order volume, top merchandise categories handled, facility locations and more.
"We are excited to be recognized by Multichannel Merchant as a Top 3PL for the 2nd consecutive year. Our clients demand that we remain ahead of the industry in supplying Omni-Channel distribution and fulfillment in this challenging retail climate. We continuously invest in our IT infrastructure to stay ahead of the many demands placed on wholesale and retail apparel companies in today's market" says Brian Southwell (Vice President of Business Development).
About Multichannel Merchant
Multichannel Merchant reaches key decision makers responsible for ecommerce, management, marketing and operations at companies that sell merchandise through multiple channels — including ecommerce, mobile, social, and catalog. Multichannel Merchant delivers original research, as well as in-depth analysis of trends and best practices, news, tactical/how-to, executive summaries, technology and supplier comparisons, tip sheets and resource information to help companies sell & deliver products wherever and whenever the customer wants them – at home, work, store or other locations.
ABOUT TAYLORED "FULFILLMENT" SERVICES
Established in NJ in 1992, Taylored Services is celebrating our 25th Anniversary. What started as a small packaging service business, has risen up to stand tall amongst the best service providers in the United States. Our distribution centers are strategically located near the nation's busiest ports of Los Angeles, Long Beach and New York.
To achieve an efficient distribution solution, Taylored develops strategic partnerships with our customers, our WMS and EDI providers and the integrators that install our automated solutions.
Taylored Services is focused on providing flexible solutions to their customer's fulfillment and distribution challenges, utilizing excellent customer service practices, and a strong entrepreneurial spirit. Our services include Warehousing and Distribution, Pick and Pack unit level fulfillment, eCommerce distribution, Value Added Services and Transportation Management.
Taylored Services provides the kinds of solutions that companies large and small rely on to solve the tactical logistics issues of serving customers better, faster, and more efficiently. Taylored is flexible, responsive, and continues to anticipate evolving needs by also offering the strategic solutions required to drive business process improvement and change for customers.
Taylored Services does not want to just be your warehouse, we desire to be a strategic partner and critical component of your supply chain. CALL US TODAY AT (844) RING TDF