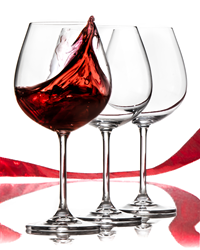 One of our core values is to continuously improve and we already had our crystal glassware dishwasher safe, but we wanted to take our products to a whole new level
(PRWEB) November 22, 2017
The innovative glassware company RÖD Wine are launching an upgrade of their already best selling crystal glasses, in time for Black Friday and the Holiday Season. RÖD Wine claims that the new improvement will make their already strong glasses even stronger. The secret ingredient is Titanium.
Titanium is a light weight strong metal and was discovered back in 1791. Since then Titanium has been used in different areas such as aerospace, military equipment and vehicles, cell phones and widely within the automotive industry. And now we can find the popular metal in products that we associate with good times; wine and champagne glasses.
"Titanium is popular due to its high strength-to-weight ratio. One of our core values is to continuously improve and we already had our crystal glassware dishwasher safe, but we wanted to take our products to a whole new level. We experimented a lot with different ingredients and titanium gave us the best results when it came to strength and durability," said Johan Hallberg, co-founder and CEO of RÖD Wine, during the press conference on the account of the product launch.
"We have taken our lead free crystal products from being sturdy, dishwasher safe and durable to being able to withstand tougher treatment, sudden drops and hits. And all that without taking away anything from the crisp crystal feeling that our glasses have. It has even enhanced the feeling of exclusivity of our products," Hallberg continued.
A debated topic within the glassware industry is the fact that lead is a common ingredient in crystal products. There are studies showing that wine and spirits can leach lead from crystal. Lead is toxic for the human body and can cause damage to the nervous system, the kidneys and bone marrow. FDA has warned about regular use of lead crystal which still today is the most common type of crystal glassware.
Due to the rapidly growing eCommerce industry, together with the increase in popularity when it comes to private labeling, the supply of lead crystal has exploded. A majority of the new brands coming up lately are sourcing their products from China. The problem for the end consumer is that many low-cost countries have no regulation when it comes to the use of lead when producing crystal. This may put the consumer at risk. A good reminder is always to ask about the origin of the glasses as well as pay attention to the price. Lead free crystal is expensive to produce while lead crystal often is cheaper to produce, which keeps the end price low. With that said it is not a guarantee that a higher price point means lead free.
"We have always been proud of being able to produce lead free products with such a high quality. To be able to improve our glasses even more by adding Titanium is thrilling. Titanium is a non-toxic metal commonly occurring within the medical industry since it is not rejected by the body. Our customers will not just enjoy the best crystal glasses on the market, the will be doing it completely safe without any lead or other toxic metals that leach," stated Hallberg.
The new Titanium upgraded glasses reached the USA last week and can be found on Amazon.com. A quick glance from a search on Amazon shows that there are facts behind CEO Johan Hallbergs raving. The glasses have more than 98% satisfied customers, based on more than 200 verified reviews.
The products from RÖD Wine are crafted in Bohemia, Czech Republic, the world's leading glass producing region with more than 800 years of glass-making. The factory where the products from RÖD Wine are being produced have been mastering crystal glass for more than 250 years and the secret recipe to RÖD Wines product has more than 100 years of history to tell.
It seems to be no coincidence that the new modern and innovative entrepreneurs behind RÖD Wine were choosing the more than 200 year old discovery Titanium to upgrade their glasses with.