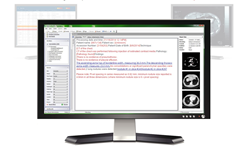 The software creates significant time savings, and once I calibrated it in my head, it was a breeze to use.
CHICAGO (PRWEB) November 22, 2017
In a recent completed study from UCLA led by Matt Brown, PhD, to be published in 2018, a team of researchers and radiologists evaluated the RADLogics Virtual Resident(tm) software integrated with PACS, configured to automatically incorporate detection and measurement data into a voice recognition reporting system (Nuance Powerscribe 360). Initial results indicate that this integrated system might save radiologists up to 47% of the time previously required to generate a final report. The study also indicates that overall nodule detection rate was comparable to radiologists who did not use the software, and nodule measurement was consistent between the radiologists and the software (variation equal to or less than 1mm).
Furthermore, the UCLA study found that additional relevant information, which might not normally be measured or included in the report by the overworked radiologist (e.g., nodule volume, aortic diameter, free fluid/free air volume) can be quantified and included in an improved report, at no additional time cost to the radiologist. This produces a more clinically valuable report.
At RSNA 2017 (Booth #8146) RADLogics will demonstrate its Virtual Resident software: CT and Xray images are automatically analyzed, findings are measured and characterized, and a preliminary report is automatically created within the radiologist's familiar reading environment including integration with leading PACS and Reporting systems.
"The solution provides the computational equivalent of a medical resident that traditionally prepares preliminary findings for radiologists in academic medical centers," says Moshe Becker, CEO and co-founder, RADLogics. "Our Virtual Resident is capable of performing this function for more studies and at a higher volume of images in a fraction of the time. The solution also preserves the existing workflow, while enabling radiologists to handle more images per study and more studies per day while actually improving quality of care."
The RADLogics cloud-based Virtual-Resident uses machine learning image analysis and advanced big data analytics to search and analyze imaging data associated with CTs, MRIs and X-rays. The speed and accuracy of the machine learning technology is continuously improved by RADLogics radiology knowledgebase, which is updated with studies from radiology departments and imaging centers around the world.
In addition to the speed and productivity improvements, the cloud-based solution also removes variability in how different radiologists interpret studies. It provides objective measurements and characterization of findings, which means greater consistency in comparing studies for the same patient tracked over a period of time, providing overall improved healthcare.
About RADLogics
RADLogics' mission is to use machine learning to create clinical decision support solutions that help radiologists provide higher value reports to better serve referring physicians and patients. The company provides one of the first commercial machine learning image analysis clinical support solutions for radiologists. The system uses proprietary algorithms that are constantly improved based on a knowledgebase of real clinical studies from hospitals around the world. The technology makes it possible to process enormous amounts of imaging data in seconds, and deliver a preliminary report to the radiologist's workstation, flowed into the reporting template and PACS that the radiologist already uses for reviewing imaging data.
RADLogics refers to this capability as Virtual Resident.
For more information, visit http://www.RADLogics.com, email us: info at RADLogics.com or stop by RSNA Booth #8146.
Contact information
http://www.RADLogics.com
info at RADLogics.com
RSNA North Hall, Booth #8146