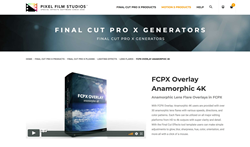 ALISO VIEJO, Calif. (PRWEB) November 22, 2017
With FCPX Overlay Anamorphic 4K users are provided with over 30 anamorphic lens flares with various speeds, directions, and color patterns. Each flare can be utilized on all major editing platforms from HD to 4k outputs with super clarity and detail. With the Final Cut Effects tool template users can make simple adjustments to glow, blur, sharpness, hue, color, orientation, and more.
FCPX Overlay Anamorphic 4K contains over 30 lens flares with a variety of speeds and directions. Each file works on any non-linear editing software. Simply drag and drop a FCPX Overlay Anamorphic 4K file on the timeline and then select the Blending Mode such as Add or Screen.
With FCPX Overlay Anamorphic 4K there are over 30 anamorphic lens flares to choose from with various speeds and directions. Users have the option from selecting from various color patterns along with speeds. With so many looks to choose from users are sure to find one that works best with the footage.
With FCPX Overlay Anamorphic 4K users are provided with the tools to customize their overall look to each overlay all within Final Cut Pro X. Users simply click and drag the effect file onto to their clip and make their adjustments under the video inspector tab. Each user has complete control over orientation, glow, stretch, directional blur, sharpness, brightness, hue, value, contrast, highlights, midtones, shadows.
With FCPX Overlay Anamorphic 4K was professionally designed to work seamlessly inside of Final Cut Pro X. As an effect overlay each FCPX Overlay: Anamorphic 4K preset can be dragged and dropped onto media and previewed in real time. With the published parameters found in the FCPX inspector, users have the ability to make further adjustments with just a few clicks of a mouse.
Established in 2006, Aliso Viejo, California-based Pixel Film Studios is an innovative developer of visual effects tools for the post-production and broadcast community. Their products are integrated with popular non-linear editing and compositing products from Apple FCPX. Apple, the Apple logo, Mac OS X, and Macintosh are registered trademarks of Apple Inc. in the U.S. and/or other countries. All other trademarks and trade names are the property of their respective owners.