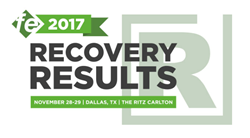 DALLAS (PRWEB) November 22, 2017
Foundations Recovery Network proudly announces that Recovery Results, a conference hosted by Foundations Events, is returning to Dallas this year. Foundations Recovery Network, an innovative treatment provider, launched the conference in 2016 to address the growing need for a space for sharing ideas and learning in the ever-growing behavioral healthcare field. The event will be held November 28 and 29, 2017, at Dallas' downtown Ritz-Carlton.
Heisman Trophy winner Herschel Walker will headline Tuesday evening's reception. He'll share the compelling story of his life with dissociative identity disorder, as featured in his memoir, Breaking Free. Dr. Eboni Webb, an international trainer in Dialectical Behavior Therapy, joins a full slate of industry leaders speaking at the conference. She'll lead a session on restoring connection in the wake of trauma and addiction. Noah Levine, a Buddhist teacher, author and counselor created a Buddhist approach to addiction recovery. Levine will wrap up the conference leading a session titled: Refuge Recovery: A Buddhist Path to Addiction Recovery.
Recovery Results focuses on sharing long-term recovery solutions that help patients implement and live a life free from addiction and mental health disorders. This includes solutions for treating non-traditional clients, difficult disorders and substance abuse. Attendees also gain insight into programs that provide longer lengths of stay and strategies for helping patients achieve lasting recovery.
Those who wish to learn more or register can visit FoundationsEvents.com.
About Foundations Events:
Foundations Events is constantly seeking to add value to the treatment and behavioral healthcare community, and one way they do this is through hosting engaging, informative and entertaining conferences. Foundations Events has hosted 50 national conferences, earning a reputation as the leader in behavioral healthcare events. Each year, multiple conferences are offered nationwide that focus on providing the latest information on treatment methods. These events are widely known and respected in the behavioral health industry for both their educational and networking opportunities. Experts from all over the country provide unique workshops and keynote presentations on a variety of treatment subjects. Typically, conference attendees have a chance to earn between 14 and 24 hours of continuing education credit as well as a Professionals Certificate in Behavioral Healthcare only available through our events. Foundations Events is part of Foundations Recovery Network, an innovative healthcare treatment provider. For more information about the conference or to register, visit FoundationsEvents.com.