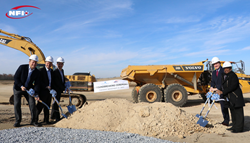 "We look forward to working with NFI on this project and further strengthening our partnership as we continue to grow." - Steve Dabrow
Cherry Hill, NJ (PRWEB) November 21, 2017
Leading supply chain solutions provider, NFI, will break ground Tuesday for a build-to-suit facility for leading premium food manufacturer and distributor, Chelten House, in Logan Township, New Jersey. NFI is developing the 209,437 square foot facility where Chelten House will establish its new corporate office and industrial operations facility with future expansion opportunities that could bring the facility to over 400,000 square feet.
"NFI is excited to team up with Chelten House to provide a unique, world-class facility here in South Jersey," says Jeff Brown, NFI Vice Chairman and President. "As an end-to-end supply chain solutions provider we understand the unique needs of our customers like Chelten House and utilize our expertise to build a facility to meet both their current and future needs."
The strategic location of the new facility in Logan Township, New Jersey places Chelten House along a corridor to major highways with easy access to the New Jersey Turnpike, Route 295, Interstate 95, and the Pennsylvania Turnpike. The facility is also unique with development plans including a rail loading dock to ensure the seamless transfer of goods across multiple modes of transportation.
"All of us here at Chelten House are eager to expand our strong roots in South Jersey," said Steve Dabrow, Chelten House Owner and CEO. "We look forward to working with NFI on this project and further strengthening our partnership as we continue to grow."
NFI's real estate group provides services in construction, development, property management, and leasing. Family owned and operated since 1932, NFI utilizes a full suite of supply chain solutions including distribution and warehousing, dedicated transportation, port drayage, brokerage, transportation management, intermodal, global logistics, and real estate. NFI continues to grow with 41.5 million square feet of warehousing and nearly 10,000 employees.
The architect for the Chelten House project is Bernardon and the general contractor is Arco Design/Build NE. The first phase of the project is expected to be completed September 2018.
Download the NFI Chelten House Media Kit.
ABOUT NFI
NFI is a fully integrated supply chain solutions provider headquartered in Cherry Hill, N.J. Privately held by the Brown family since its inception in 1932, NFI generates more than $1.2 billion in annual revenue and employs more than 8,000 associates. NFI owns facilities globally and operates 29.5 million square feet of warehouse and distribution space. Its company-owned fleet consists of over 2,000 tractors and 8,200 trailers, operated by more than 2,600 company drivers and 250 owner operators. Its business lines include dedicated transportation, warehousing, intermodal, brokerage, transportation management, global, and real estate services. For more information about NFI, visit http://www.nfiindustries.com or call 1-877-NFI-3777.
ABOUT CHELTEN HOUSE
Now in its fourth generation as a family run business, Chelten House Products has been a leader in the premium food manufacturing and distribution industry for more than 70 years. A pioneer in the organic market, Chelten House has been an award-winning leader in organic products for more than 25 years. With an emphasis on premium quality and innovative flavors, Chelten House has developed thousands of products for the nation's largest retailers and co-manufacturing partners. With 10 full-scale production lines between our New Jersey and Las Vegas facilities and more than 400,000 square feet of manufacturing and distribution space, Chelten House can deliver the highest quality products, on a large scale, throughout the United States.