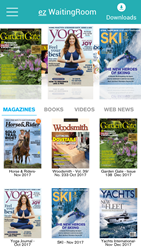 We never thought that our app could earn the 'We Save Lives' moniker, but we're happy to be a positive actor in this area.
LIVINGSTON, N.J. (PRWEB) November 22, 2017
The ez WaitingRoom app, now active in over 15,000 unique physician offices covering over 80,000 doctors, brings easy discovery of current issues and streaming broadcasts directly to waiting room visitors right on their own devices – smartphones and tablets. The ez WaitingRoom app offers several options such as: popular magazines, novellas and short stories, videos from Guinness World Records, popular news and social influencer feeds. In addition to reading and watching, waiting room visitors can also play several games and puzzles with links to the leading games and puzzle makers.
The iOS and Android apps, now available in both the iOS and Google Play App stores, are the creation of a team led by David Maisel, the founder of the print magazine industry's leading waiting room company and Ed Young, a former publisher, technologist and long-time husband of a physician. Having such close ties to the existing waiting room experience, especially in doctors' offices, caused the gentlemen to realize that technology had not properly addressed the major issues regarding waiting room entertainment. The current standard falls far short of the ideal and, in many ways, is dangerous to the health and welfare of patients in waiting and exam rooms. Print magazines are usually out of date and in the eyes of most patients, seen to be riddled with germs as most have witnessed a patient coughing, sneezing or worse as they rifle through the pages. In addition, the introduction of shared tablets to the doctor's office brings communal use of one of the most likely places to find bacteria, germs and virus – the tablet's screen. Also, in an age of on-demand entertainment the communal television monitor in the waiting room has become increasingly annoying—often tuned to one channel catering to very few waiting room visitors.
"We are a current participant in the New Jersey Innovation Institute (NJII) Health IT Connections program which is helping us hone our company vision and go-to-market strategy and the institutional education and insight this has provided from a hygiene and safety perspective really surprised us," stated Ed Young, CEO of EZ Waiting Room LLC. "Hospitals, especially, have reacted to us positively as they seek to minimize patient to patient transmission of illness and the reduction of shared paper and devices is seen as one means of accomplishing this goal. We never thought that our app could earn the 'We Save Lives' moniker, but we're happy to be a positive actor in this area."
According to the CDC, healthcare-associated infections (HAIs)–infections patients can get while receiving medical treatment in a healthcare facility–are a major, yet often preventable, threat to patient safety. The ez WaitingRoom app aims to help by reducing infections from paper and shared tablets in offices.
EZ Waiting Room LLC (EZWR) provides a platform for health care providers to deliver premium entertainment and quality healthcare information to their patients. Utilizing mobile technologies to facilitate the delivery of quality information, EZWR seeks to improve the healthcare experience and its outcomes.
The New Jersey Innovation Institute (NJII) is an NJIT corporation that applies the intellectual and technological resources of the state's science and technology university to challenges identified by industry partners. Through its Innovation Labs (iLabs), NJII brings NJIT expertise to key economic sectors, including healthcare delivery systems, bio-pharmaceutical production, civil infrastructure, defense and homeland security, and financial services.