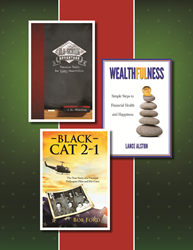 Merry Reads to delight fans of business, sports, entertainment, and biographies.
Dallas, Texas (PRWEB) November 22, 2017
As the holiday season kicks into high gear, let Brown Books make your gift shopping easier with these fabulous reads! Here are options for those on your list who enjoy business, entertainment, sports, and biographies.
Business and Finance
Wealthfulness: Simple Steps to Financial Health and Happiness by Lance Alston (Personal Finance/Money Management)
Wealthfulness is the recipe for a holistic approach toward fiscal matters. Combining the concepts of Wealth and Happiness, this resource provides "timeless family recipes" for how to help the consumer manage their financial affairs. It also incorporates current research in the areas of Happiness and Behavioral Finance to provide insight on why we make the decisions that we do.
Release date: January 2, 2018; pre-orders available at:
http://www.wealthfulness.com/
The Encore Curve: Retire with a Life Plan that Excites You by Andy Raub (Personal Finance/Retirement Planning)
Andy Raub's innovative approach to retirement involves looking at life in later years in a purpose-filled way. He has a passion for helping those nearing retirement to find purpose and fulfillment in their next phase of life and wants to share some of the helpful concepts he has learned as someone entering the encore curve himself.
http://www.encorecurve.com/
The Old School Advantage: Timeless Tools for Every Generation by J.N. Whiddon (Personal Growth/Success)
This book encompasses not only passing on financial wealth but also social, spiritual, and occupational know how. It's about investing in our families with both aspirational and practical instructions and insights for a better life.
http://www.theoldschooladvantage.com/
Hardheaded and Softhearted: Lessons from the Boardroom to the Break Room by Rick Belluzzo & Krish Dhanam
These two authors offer "Lessons from the Boardroom to the Break Room" based on their extensive experience with companies such as Microsoft, Hewlett-Packard, Quantum, and the Zig Ziglar Corporation. This little book captures their wisdom in capsule form: where IQ meets EQ, quality of life events.
http://www.skylifesuccess.com/
Xbox Revisited: A Game Plan for Corporate and Civic Renewal by Robbie Bach (Strategic Planning)
http://www.robbiebach.com
The 10 Pillars of Wealth: Mind-Sets of the World's Richest People by Alex Becker (Personal Success)
http://www.alexbecker.org/book/
Translate, Motivate, Activate: A Leader's Guide to Mobilizing Change by Larry Solomon (Leadership)
http://www.SolomonPS.com
Entertainment Guide and Cookbook
Sophistication is Overrated by Babs Horner and Susan Palma (Entertainment Guide and Cookbook)
Sophistication Is Overrated is a coffee table book with a twist – and one you'll actually use! Written by Babs Horner, a gourmet caterer, and her sister Susan Palma, an interior decorator, the book is a testimony to both refinement and fun. Babs's gourmet recipes and unique arrangement insights from Susan will allow you to entertain as the sisters do: with humor, heart, and above all, delicious food. Sophistication is Overrated has a new claim to fame – it will be featured in the 2018 Golden Globes Red Carpet Gift Lounge!
http://www.sophisticationisoverrated.com/
Sports
Coach Tex Winter: Triangle Basketball by Ann Parr (Basketball)
This book introduces readers to another side of Tex Winter – the star athlete, family man, teacher, leader, and respected coach. Ann Parr's late husband, Jack, played for Tex at Kansas State University and experienced the life-changing, life-encouraging experience of having Tex Winter as a mentor and coach. Her personal perspective of this larger than life coach is beautifully depicted in her book honoring his legacy.
http://www.coachtexwinter.com/
The Single Plane Golf Swing: Play Better Golf the Moe Norman Way by Todd Graves and Tim O'Connor (Golf)
Golfers on your gift list will appreciate a tool to learn an easier swing that simplifies the game and makes it easier to play. This 200-plus-page instruction book provides readers with the most in-depth exploration ever written for golfers who want to master Moe Norman's Single Plane Golf Swing.
http://www.moenorman.org/
The Feeling of Greatness: The Moe Norman Story by Tim O'Connor (Biography and Autobiography/Golf)
http://www.moenorman.org/
Biography/Memoir
There Are No Silver Bullets: My Family, My Depression by Brent Blonigan (Personal Memoir)
Like many people struggling through a battle with depression, acceptance can be one of the most difficult challenges to face. After a life of fighting depression, Brent Blonigan concludes his memoir by discussing the need to break through the prejudice of the media in our society and openly discuss mental illness.
http://www.therearenosilverbullets.com
Black Cat 2-1: The True Story of a Vietnam Helicopter Pilot and His Crew by Bob Ford (Historical/Military)
Bob Ford delivers a vivid portrait of the camaraderie, danger, and survival he experienced 50 years ago. During the Vietnam War raging in Southeast Asia, he made a commitment to flying helicopters, completed ROTC training, and received a commission to the U.S. Army in 1966. Within his first six weeks in Vietnam, he took over the command of a helicopter detachment just 40 miles from the demilitarized zone (DMZ). In only one year, he flew over 1,000 missions in Vietnam.
http://www.blackcat2-1.com
"Happy reading (and shopping)!"
About Brown Books Publishing Group (BBPG)
Founded by Milli Brown in 1994, Brown Books Publishing Group is a full-service, independent publisher of high-quality books across all genres, from nonfiction to fiction. Committed to producing award-winning books for authors who choose to retain the rights to their intellectual property, Brown Books publishes more than one hundred titles a year and has won numerous prestigious awards, including the Writer's Digest Grand Prize, Mom's Choice Award, Foreword Book of the Year, Gold Ink Award, Axiom Business Book Award and many more. Brown Books authors have appeared on programs and channels such as the "Today" show, Fox News, "Face the Nation," CNN and BBC News. They have been featured in publications such as USA Today, Publishers Weekly, and The New York Times. In addition, BBPG authors have been guests on NPR programming, including "The Diane Rehm Show," "Morning Edition," "The Takeaway" and "Tell Me More." To learn more, visit http://www.BrownBooks.com.
About The Agency at Brown Books (ABB)
The Agency at Brown Books is a full-service public relations, marketing and branding firm within a publishing house. As a subsidiary of Brown Books Publishing Group, The Agency is backed by 20 years of excellence and experience, and the one-of-a-kind, integrated platform is available to Brown Books' authors as well as to non-affiliated authors, established writers, entrepreneurs, CEOs and anyone seeking smarter strategies for building their business. For more information, visit http://www.TheAgencyAtBB.com.