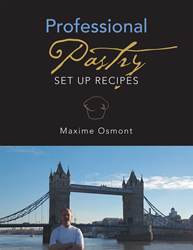 LONDON (PRWEB) November 27, 2017
The head pastry chef at London's famous The Mondrian Hotel, Maxime Osmont, has released his debut recipe book, "Professional Pastry: Set up Recipes." Created for professional pastry chefs and bakers, the book provides recipes and techniques utilizing brand new materials not found anywhere else. The solid and authentic recipes, all created by Osmont, will help chefs and bakers be more creative in their work.
Born and raised in France, Osmont was destined to be a professional pastry chef as he was raised in a proper old fashion bakery with a wood oven. A graduate of the Institute National de la Boulangerie Patisserie in Rouen, France, Osmont now has over 16-years of professional baking experience. He has worked at several Michelin star restaurants including L'Atelier de Joël Robuchon in London and Le Saint-Paul restaurant in France.
"I decided to create my own cookbook so I could share my personal recipes that I use everyday for work using precise scaling as most books do not provide precise measurements," said Osmont. "This book will be very useful for a lot of people, some new strong bases available to everyone."
"Professional Pastry" provides easy to read and precise recipes with accurate scaling for chefs and bakers to create brand new tasty pastries such as Citrus Tart Bergamot, Pistachio Brioche, Pumpkin & Cardamom Cheesecake and much more. The book also features a selection of dietaries recipes for those with food allergies. To learn more please visit: Professional Recipes Osmont
"Professional Pastry: Set Up Recipes"
By Maxime Osmont
ISBN: 9781524677312
Available at AuthorHouse, Amazon, and Barnes & Noble
About the author
Maxime Osmont left France at 21 years old to travel and see the world and created a collection of recipes from every place he has worked. He is now a Head Pastry Chef in London and every day is about mixing up all the knowledge he accumulated during those years of practice and being creative with recipes. He completed his pastry and bakery apprenticeship in Rouen, Normandy, France. His grandfather's bakery taught him how to appreciate "le bon pain" and gave him all the strength necessary to keep going into his career. Osmont currently resides in London.
General Inquiries and Review Copies:
LAVIDGE – Phoenix
Lauren Dickerson
480-998-2600
ldickerson(at)lavidge.com