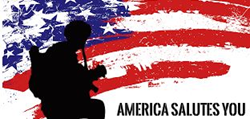 The number of men and women who have donned our country's uniform and served multiple tours of combat duty is the largest in modern American history. We owe them a huge debt, and we can repay it by remembering their sacrifices and providing the resources for them to achieve the American Dream
Simi Valley, CA (PRWEB) November 22, 2017
MilitaryConnection.com, one of the most comprehensive directories of military and veteran resources on the web, and non-profit trade association VAMBOA, the Veterans and Military Business Owners Association are proud to announce that they have joined forces with America Salutes You and Wall Street Rocks to Present "Guitar Legends for Heroes."
On Wednesday, November 29th, some of the world's best guitarists will hit the stage at Terminal 5 in New York City to thank our military, veterans and their loved ones for their sacrifices, while raising funds for the high impact charities that support them.
Co-hosted by country legend Trace Adkins and SIRIUS XM's Eddie Trunk, the all-star event will feature special performances by Richie Sambora (Bon Jovi), Dave Navarro (Jane's Addiction), Billy Gibbons (ZZ Top), Nancy Wilson (Heart), Sam Moore (Sam and Dave), Orianthi, Lindsey Ell, Robert Randolph, and Joe Don Rooney (Rascal Flatts)
The concert will air nationally on Tribune Broadcasting, Sinclair Broadcast Group, Hearst Television, Graham Media Group, Gray and Ion television stations on December 23rd.
Charity Recipients benefitting from the music-filled evening include Headstrong, Psych Armor,
The Elizabeth Dole Foundation, Hope for the Warriors, and Warrior Canine Connection.
The concert is made possible by the generous financial support of Presentation Sponsor the Independence Fund, and additional corporate sponsors including American Airlines, Johnson & Johnson, Walgreens, the National Football League, Broadridge and TIBCO.
"We have asked those who serve, past and present, to leave their home and their loved ones to protect our freedoms," said Debbie Gregory, CEO of MilitaryConnection.com. "The number of men and women who have donned our country's uniform and served multiple tours of combat duty is the largest in modern American history. We owe them a huge debt, and we can repay it by remembering their sacrifices and providing the resources for them to achieve the American Dream."
About America Salutes You
America Salutes You is a 501c3 organization created to express our national gratitude to our troops, veterans and their families through an annual nationally broadcasted benefit concert that raises funds for a range of high impact veteran charities.
About Wall Street Rocks
Wall Street Rocks is a 501c3 organization that creates both televised and festival like music events designed to bring people together to raise awareness and most importantly raise money for the outstanding veteran and military charities that help our military, veterans and their families. They are a unique collaboration of employees across the financial, technology and entertainment industry focused on supporting heroic Americans who serve our nation. From brave soldiers deployed around the world who protect our freedoms, to first responders who selflessly venture into dangerous emergency situations here at home, these courageous men and women have our backs every day. Wall Street Rocks has their backs.
About MilitaryConnection.com
MilitaryConnection.com offers one of the most comprehensive directories of military and Veteran resources on the web, focusing on employment, education and more. Military Connection has been named a Top 100 Employment Web Site by the International Association of Employment Web Sites for five years in a row. It is that focus on employment that garnered MilitaryConnection.com one of the prestigious Weddle's Users Choice Awards for 2015. Military Connection features thousands of pages of resources and information. There is something for everyone including, but not limited to a Job Board and Virtual Job Fair, comprehensive Post 9/11 GI Bill education information with a directory of thousands of scholarships and a Veteran school directory, news, press releases, special events, pay charts, benefits, service directories, commissaries and exchanges, golf courses and more. Military Connection has the honor of working with incredible non-profits to improve the quality of life for those who serve. When the next tour is back home, it's on Military Connection, the Go To Site.
About VAMBOA
VAMBOA, a 501(c) 6 non-profit trade association, has been providing its members with knowledge of government provisions that help service-disabled veteran business owners, Veteran business owners and military business owners since 2010. VAMBOA's mission is to help drive the success of these veteran business owners. VAMBOA also connects it members to contacts within large corporations and government agencies who can mentor members, and in some cases, can even directly provide members with government contracts and vending contracts within large corporations. Membership in VAMBOA is free.