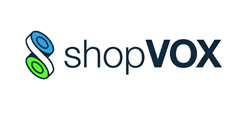 We want to thank, from the bottom of our heart, our early adopter customers that gave us a chance and our employees that are all over the world working really hard
SAN FRANCISCO (PRWEB) December 14, 2017
During the 4th annual Intuit QuickBooks Connect conference, where small business owners, developers and accountants gather to network and learn how to grow their brand and business, shopVOX was announced as the winner of the 2017 $100,000 Small Business App Showdown. The App Showdown contest showcases the very best apps published on the QuickBooks App Store over the last year.
Over one hundred apps entered the Small Business App Showdown, which kicked off in August. Each app that entered this contest was featured in an online gallery that was promoted to the more than 2.38 million QuickBooks Online users worldwide. More than 50,000 people voted to help select the top 10 finalists. These 10 finalists, including shopVOX, competed live on stage in front of a panel of judges on November 15th. The next morning, Sasan Goodarzi, the Executive Vice President of Intuit QuickBooks, announced shopVOX as the winner of the App Showdown.
ShopVOX is cloud based software that offers a simple, yet comprehensive solution for the creative custom manufacturing and graphics industries such as sign making, vehicle wrapping, screenprinting/embroidery, engraving, awards and digital printing. ShopVOX can also serve any other custom shop like woodworking, cabinet making, window tinting, job shops like auto body shops and any made to order manufacturing or service oriented shops. With more than 3,000 customers in over 20 countries, shopVOX is transforming the way custom manufacturers manage their businesses. With shopVOX, they are able to manage all areas of their business, including sales leads, pricing, workflow, customers and more.
"We're thrilled to be this year's App Showdown winner and recognized as a top new app on Intuit's App store", said Rao Meka, the co-founder of shopVOX. "With the $100,000 prize money and integration on Intuit's platform, we will invest in hiring more support and development help which will enable us to improve shopVOX, accelerate our growth and reach even more small businesses to help them produce and deliver their custom products on time and without error."
"We want to thank, from the bottom of our heart, our early adopter customers that gave us a chance and our employees that are all over the world working really hard", said Meka.
ShopVOX is committed to provide the best solution for custom manufacturers to manage their business.
ShopVOX allows custom shops to manage every area of their business starting with sales leads, ending with invoicing and everything in between, including management of pricing, workflow, projects, staff, customers, vendors, inventory and equipment. ShopVOX also offers custom businesses to send quotes and proofs online where they can track them while customers can approve or make changes online.
You can install shopVOX from the QuickBooks App Store or learn more about shopVOX on the shopVOX website.