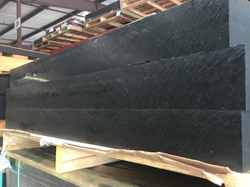 At A&C Plastics we do our best to forecast outages and shortages but sometimes the causes are unexpected and unpredictable. We have one of the largest inventories of HDPE and HDPE pipe grade sheets ready to ship to keep your projects moving forward."
HOUSTON (PRWEB) November 28, 2017
Hurricane Harvey was defined by the devastation it unleashed on Houston, TX and other nearby cities. Harvey caused tremendous flooding and property damage through the Southern Coast of Texas as well as areas inland. Plastics processing facilities located along the Gulf Coast were not spared from the destruction and several plants are still working to bring their operations back to normal production levels.  
The prolonged downtime is a product of the tremendous amount of rainfall that fell as Harvey settled over the region. Some regions saw nearly four and a half feet of rain, contributing to what many climatologists are referring to as the worst rainfall event in American history. This led to massive flooding that did significant damage to plastics processing facilities within the area. Though said facilities have been working around the clock to get their operations back up to speed, those efforts have been stymied by the damage done to local infrastructure.
Overall, 37 different facilities related to plastic processing within the region have either suspended their operations or declared force majeure. These facilities range from small, individually-owned factories to industry titans like Chevron Phillips Chemical, Dow Chemical, and ExxonMobil. These shutdowns have had a significant effect on the production of high-density polyethylene (HDPE) because these plants collectively produce virtually every component essential to the creation of the material. The production of everything from ethylene oxide to epoxy resin has been slowed in the wake of the hurricane. Since HDPE sheet is a petroleum byproduct, the hit taken by the oil processing facilities in the area has created circumstances that have left plastics providers throughout the country scrambling for supplies.
"The chemical capacity outages from Hurricane Harvey have been the worst that I have seen in the 11 years I have worked in the plastics industry. It is estimated that almost 60 percent of all commodity chemical capacity and almost 75 percent of polyethylene production is either down or affected by Harvey," said John Darcy, Sales Manager for A&C Plastics. "At A&C Plastics we do our best to forecast outages and shortages but sometimes the causes are unexpected and unpredictable. We have one of the largest inventories of HDPE and HDPE pipe grade sheets ready to ship to keep your projects moving forward."
A&C Plastics has been closely monitoring the situation and is keeping constant contact with the factories they rely on for their supply of HDPE. Though the company believes that supply issues and price fluctuations will continue in the short term, A&C remains confident that they will be able to continue providing their clients with industry-leading HDPE products and solutions.