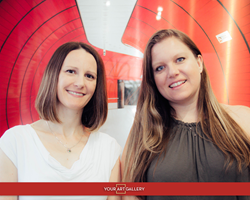 We wanted to make it easy to bring a wide variety of art to customers at any time, in any setting they choose.
(PRWEB) November 22, 2017
The days of young art lovers strolling through galleries to purchase a masterpiece aren't gone, but because of technology, there is another option. Instead of visiting galleries in person, people can browse collections on the Internet while lounging on a sofa at home with their morning coffee.
Many young people consider buying art not only an investment, but also an improvement in their quality of life. Having a beautiful painting, illustration or photograph on the wall just makes their life a little better.
Successful art dealers know that busy, tech-savvy young people want to obtain art and obtain it conveniently. Smart sellers keep their brick-and-mortar shops running and add online retailing to offer the convenience young shoppers expect.
"We wanted to make it easy to bring a wide variety of art to customers at any time, in any setting they choose," says Heather Griffin, co-founder of YourArtGallery.com (YAG). "We did the research and the message was clear: twenty- and thirty-something art collectors trust their aesthetic instincts enough to purchase art online. We have a wide assortment of pieces that meet their needs and desires."
Online galleries usually promote and sell the work of their favorite artists, as traditional galleries do. But some shops encourage artists to upload and promote their work on the gallery website, which helps talented artists get more exposure for their collections.
"Running an online gallery that allows artists to upload their own work to our site empowers both artist and consumer," says Griffin. "What makes YAG so extraordinary is that we encourage all levels of artists to exhibit with us. We have very talented young painters and photographers showing their work for the first time, as well as seasoned professionals."
In most cases, young buyers are looking for beautiful art that doesn't empty their bank accounts. Danielle Albertz, Marketing and Social Media Manager at YAG, says the gallery keeps those people in mind: "We offer quality pieces that are affordable, and 90% of the art fee goes directly to the artist – that is unprecedented for an art gallery and definitely appeals to our customers. They feel good about shopping at YAG, knowing that most of the price they pay goes to support an aspiring young artist."
Austin Griffith, a 23-year-old social media professional, appreciates YAG's approach: "I love art and I think of it as in investment in myself – something I will enjoy for years and maybe even pass on to a loved one. But I live on a budget, and buying art comes after rent, car payments, insurance and food. YAG provides so many options – I can decide how much I want to spend and see the pieces available in that price range. I'm a guy who doesn't like shopping in general, but YAG make it painless – actually, enjoyable. I wanted a picture of the Brooklyn Bridge as I see it, and had a fantastic selection from which to choose. I ended up selecting a picture by Chris Lord – and absolutely love it. "
Online art buyers often use social media as a first stop when considering a purchase. They invite comments from friends online, sharing a thumbnail of the piece they're thinking about. "Shopping for art online is such a unique and enjoyable experience," says Marina Stewart, 30, a young IT professional. "I start by perusing Instagram and Facebook. I find new artists to follow and the links to online galleries that feature those artists. I mull it over for a few days and when I'm ready, I sit down with a glass of wine and 'click,' I make my purchase. I love the whole process and I always love what I buy."
Albertz says that online shopping is here to stay at YAG—not just for a better bottom line, but also to lend a hand to gifted artists trying to get their careers off the ground: "Social media plays a huge role in boosting our sales and we encourage our artists to promote themselves and their work. We give them instructions on how to use our invaluable marketing tools and those who follow our guidance see their sales skyrocket. I love to see our artists succeed."
Fast Facts about Purchasing Art Online:

56.9% of those ages 18-24 say they would purchase art online.
25% of those ages 18-24 would prefer to purchase art through an online gallery.
51.6% of those ages 25-34 say they would purchase art online.
44% of those ages 18-24 say they discover art through social media platforms.
34% of those ages 25-34 say they discover art through social media platforms.