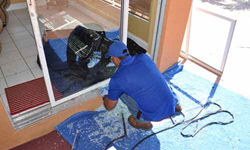 We'd like to remind the public to ignore anyone offering a service without the proper credentials. Shoddy training can equal low-grade workmanship
WEST PALM BEACH, Fla. (PRWEB) November 24, 2017
West Palm Beach Glass Repair (WGR), a top-rated sliding glass door repair service in West Palm Beach, Florida, is proud to announce a new informative blog post on post-hurricane issues. Residents may be interested in getting glass doors and windows inspected for damage after hurricane Irma. Contacting an expert glass technician trained in best practices may be a good start.
"After disasters like hurricane Irma, it's become normal for so-called contractors to approach residents and offer professional consulting services during clean up," commented Yaniet Santos, General Manager of WGR. "We'd like to remind the public to ignore anyone offering a service without the proper credentials. Shoddy training can equal low-grade workmanship."
To review the new WGR post for hurricane recovery sliding glass door repair in West Palm Beach, please go to: https://westpalmbeachglassrepair.com/west-palm-beach-glass-repair-wgr-announces-new-post-best-practices-post-irma-recovery/. A fully-trained and credentialed glass repair technician can inspect window and door glass for storm damage or general wear and tear. A thorough inspection and repair could help secure a home or business for the 2018 hurricane season. For information specific to sliding glass door repair, visit https://westpalmbeachglassrepair.com/sliding-glass-door-repair/.
West Palm Beach Residents Use Best Practices Post-Irma to Secure Top
Sliding Glass Door Repair
Here is background on this release. News reports may be warning the public of nefarious practices in the contracting business pursuant to Florida's dangerous hurricane. Unlicensed journeymen may have approached owners about fixing storm-damaged properties. Such persons could begin by offering an attractive low bid to complete work. If a property owner does not practice due diligence and accepts a bid from a questionable journeyman, it may turn out to be a big mistake. If money has been paid up front but workers don't arrive on the scheduled day, repairs to shattered windows and sliding glass doors could cost more than expected. Florida residents may do better by inspecting credentials and customer reviews before agreeing to a repair contract.
For these reasons, WGR has announced a new informative post for the West Palm Beach community. Before accepting an attractive bid from a self-proclaimed contractor, citizens have been asked to review credentials first. A fully licensed and trained professional can be easily researched online. A top West Palm Beach sliding glass door repair professional may encourage locals to take such an action. Experts using best practices can ask the public to do the same. Repairing a Florida home after a disastrous storm can cost time and money. West Palm Beach locals should not have to pay for emergency sliding glass door repair twice. Investigating the background of a contractor can be a great best practice for Florida locals. After a damaging hurricane, West Palm Beach residents can find a fully credentialed, top sliding glass door expert ready to do a job right.
About West Palm Beach Glass Repair (WGR)
WGR is a family-owned and operated glass repair service in West Palm Beach, Florida, with more than 30 years of experience. Persons looking for window glass repair service for a home or business, should contact the company for a no obligation estimate. The company specializes in sliding glass door repair both residential and commercial, as well as emergency glass repair. If it's commercial glass repair or residential glass repair and in Palm Beach County, WGR has it covered! Please contact media relations at 561-336-6479 for more information.
WGR Glass Repair
Web. https://westpalmbeachglassrepair.com/