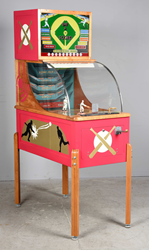 The Torrence coin-op collection is in a class by itself and we are so proud to have the opportunity to offer it to enthusiasts from all around the world. The accompanying book, which stands on its own as an ultimate authority reference book, is a must-have for anyone interested in coin-op machines.
LAS VEGAS (PRWEB) November 27, 2017
Morphy Auctions, the finest auction destination for fresh to the market collections, is excited to announce that it will be offering the Torrence Collection of remarkable antique coin-op machines, Americana, and gas and oil collectibles on January 27th as part of its January 27-28, 2018 Coin-Op and Advertising sale. Over 350 exceptional selections will be on offer at this unquestionably standing room only event. Morphy's is internationally recognized for its leadership with coin-op machines and holds several world's sales records within this important category. All lots from this January event will be on display in Morphy's Las Vegas auction gallery and available for preview beginning December 15th.
This collection has been carefully curated by Jon Torrence and offers breathtaking examples of machines from the late 1800's onward. Torrence, Morphy Auctions' Coin-op and Gambling Department Head, is known throughout the collector's world for his encyclopedic knowledge of vintage coin-op and gambling machines, outstanding professional networks, and for building, leading, and educating collectors' communities on social networks, including Facebook and YouTube. Of the selections being offered, approximately 30 have never come up for auction in the past, and many machines have no record of ever being sold.
In order to capture this once-in-a lifetime event, Jon has authored The Torrence Collection, a commemorative coffee table book featuring these beautiful machines. It comes to life with eye-catching illustrations and comprehensive descriptions. The photos were taken at Torrence's Clovis, CA home and include fun and playful shots with internationally known pin-up girls. Torrence comments, "I am extremely proud of The Torrence Collection book; several months and countless hours went into the production of it. This collection is one of the great loves of my life. I really hope collectors from around the world enjoy the book as a reference, a conversation piece, and a part of antique coin-op machine history." The Torrence Collection book is currently being published. More details about the book and how to obtain a copy can be found by visiting http://www.morphyauctions.com.
The Torrence coin-op machines available through Morphy's upcoming sale share several critical things in common - they are all extremely rare, high quality, fun to play, and work! There is no doubt that collectors will have trouble choosing favorites among the superlative examples on offer. Some outstanding opportunities include:

A 1948 H. C. Evans Bat a Score, estimated at $40,000 – 60,000. It is considered by collectors in the know as the Holy Grail of coin-op machines and one of the most desired baseball themed games ever produced. 
A 1941 Keeney Submarine, estimated at $30,000 – 40,000. It is believed to be the rarest and most sought-after WW2 themed arcade games ever produced.
A 1929 Chester Pollard Play the Derby, estimated at $40,000 – 60,000. Housed in a gorgeous cabinet, this is one of the rarest early horse racing themed arcade game.
A 1935 Exhibit Supply Play Baseball, estimated at $15,000 – 25,000. This is the only known example of this baseball themed early pinball with a playfield running man unit using a ball. Astonishingly, once the game is finished, it actually prints out a ticket with the score as a keepsake.
A 1949 Chicago Coin Midget Skee Ball, estimated at $25,000 – 35,000. This is one of the most sought-after mannequin themed games ever produced.
According to Dan Morphy, President of Morphy Auctions, "The Torrence coin-op collection is simply in a class by itself and we are extremely proud to have the opportunity to offer it to enthusiasts from all around the world. The accompanying book, which stands on its own as an ultimate authority reference book, is a must-have for anyone interested in antique and vintage coin-op machines. It also captures this collection and moment in time in the finest and most permanent way possible. We look forward to welcoming visitors and guests from around the world to Las Vegas to view this unprecedented sale in person." Jon Torrence continues, "I see the sale of this portion of my collection as the next step in a lifelong mission: helping others discover, celebrate, and appreciate the best and the rarest pieces of American popular culture. By putting this collection into new hands, I hope to inspire others to embrace their passions and share their own treasures with the world."
About Morphy Auctions:
Morphy Auctions, the finest auction destination for fresh to the market collectibles, is headquartered in Denver, PA. The company also has a satellite office in Las Vegas, NV. A full-service auction house, Morphy's presents over 35 premier auctions annually. The company's three-part mission includes ensuring consignor satisfaction with every auction, offering world-class customer service that goes above and beyond the call of duty, and providing relentless buyer support to create confidence for all clients seeking a trustworthy purchasing experience.
Morphy's team of specialists includes the nation's finest and most recognized experts in popular collecting categories including advertising; firearms; fine automobiles, automobilia and petroliana; coin-operated machines; antiques, fine, and decorative art; dolls, bears, toys, and trains; cast iron; coins; marbles; jewelry and wrist watches. Morphy Auctions is owned by President and Founder Dan Morphy, himself a lifelong and passionate collector of antiques, banks, and numerous other categories.  Morphy's has been in business since 2004 and has grown from two to over 65 employees in over a decade. Morphy Auctions is located at 2000 North Reading Road, Denver, PA 17517.  We can be reached by phone at 877-968-8880, by fax at 717-336-7115, and by email at info@morphyauctions.com.  Our auction gallery is open seven days a week: Monday through Friday from 9am to 4pm and Saturday and Sunday from 9am to 1pm.  For more information on Morphy's, please visit http://www.MorphyAuctions.com.