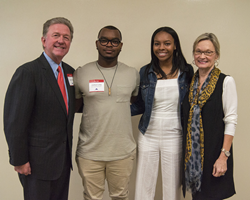 HOUSTON (PRWEB) November 27, 2017
For the third year, InsurMark, a national financial advisor development organization with headquarters based in the Memorial area of Houston, Texas, awarded two $5,000 scholarships to local Houston students through its corporate charity, Folds of Honor. This scholarship, part of the InsurMark Cares program, benefits local-area students whose parents received a medical discharge or a loss of life from the United States armed forces for injuries sustained during their time on duty.
About the Scholarship Recipients
Kiera Bradley is the proud daughter of United States Army Captain Kendrick Bradley and a freshman at Texas State University. Sharing in her father's dedication to service, Kiera is studying to be a nurse with a goal to become either a nurse practitioner or to work in pediatrics when she graduates. Captain Bradley, a veteran of both Operation Enduring Freedom and Operation Iraqi Freedom, was discharged after a distinguished career due to combat related injuries to his leg.
Joshua Long, son to United States Army Specialist Darrell Long, is a freshman at Texas A&M and a Missouri City resident. Josh has been fascinated with engineering since he was a young child. That fascination has never gone away and has lead him to pursue a degree in Engineering. His father, Specialist Long, served six years in the Army. Long was stationed in Germany until 1990, when he was medically discharged due to a work-related injury.
About InsurMark
Based in Houston for 34 years, InsurMark has helped over 20,000 independent financial advisors across the country propel their businesses, and reach or exceed their goals. With decades of year-over-year growth, InsurMark offers specialized expertise in case design, education and marketing for fixed and fixed-indexed annuity, life-insurance, and asset-based long-term care products. InsurMark offers:

Premier wealth accumulation and retirement income products and carriers
Licensed, experienced business development consultants
Lead generation and prospecting programs
Marketing and branding support
Onsite and online sales training and education
Practice-betterment solutions
Advanced technology tools and solutions
About Folds of Honor Foundation
Founded by Major Dan Rooney in 2007, Folds of Honor provides college scholarships to the spouses and children of service members disabled or killed during U.S. military service. More than one million dependents have been affected by the wars in Iraq and Afghanistan and 87 percent of them do not qualify for federal scholarship assistance. Folds of Honor, a 501(c)(3) charitable organization, has a mission to empower deserving military families with educational support and opportunities.