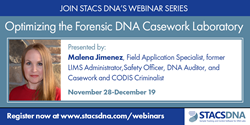 Register now for our four-part webinar series to learn how to optimize your DNA lab.
Ottawa, ON (PRWEB) November 27, 2017
STACS DNA Inc., the sample tracking software company, today announces a new, live webinar series to show DNA laboratory analysts, managers and directors how forensic DNA laboratories significantly increase productivity, reduce errors, and improve data quality by using STACS-CW sample processing and lab management software.
The series, titled "Optimizing the Forensic DNA Casework Laboratory", comprises four webinars:

Laboratory Management: Tracking Consumables and Instruments to Optimize Performance
Sample Processing: Tracking Evidence and Reporting
Integration: Saving Time and Reducing Errors Through Laboratory Integration
Compliance: Data at Your Fingertips Eases Audits and Operating Compliance
The webinars will be presented by Malena Jimenez, a Field Application Specialist with STACS DNA, who is an ABC-certified analyst with significant scientific and information technology experience gained as a Criminalist, LIMS Administrator, Safety Officer, DNA Auditor and Casework and CODIS Criminalist with the Missouri State Highway Patrol (MSHP)'s multi-site DNA casework laboratory.
The webinars will be held weekly from November 28 to December 19. For details and to register, visit http://www.stacsdna.com/webinars.
About STACS DNA
STACS DNA delivers sample tracking and control software specifically designed for forensic DNA casework and database labs. Proven to increase productivity by more than 40% while meeting strict accreditation standards—with no new hiring, and no need to acquire or replace your current LIMS. Since 2000, STACS DNA's solutions continue to address the shortcomings of many current LIMS by providing an automatic audit trail, DNA-specific workflows, integrated systems and instrumentation, improved data quality, automatic grant tracking and unmatched service. Our customers are federal, state, regional and local law enforcement agencies in the U.S. and Canada, including many of the largest forensics DNA labs in North America. The company is based in Ottawa, ON and Fairfax, VA.