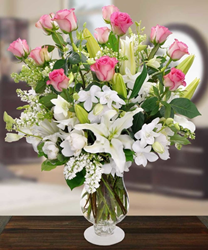 Los Angeles, CA (PRWEB) November 24, 2017
Since opening its doors in 1978, The French Florist has been a trusted and family-owned local florist, delivering flowers and gifts to Los Angeles and surrounding areas. Located on 8658 W Pico Boulevard, the store offers same-day local flower delivery with all cities surrounding Los Angeles and specializes in custom made flower arrangements designed for every occasion. Owner Steve Jobson ensures customer satisfaction "no matter the order or request."
"The flowers are beautiful, fresh & lovely. Arranged exquisitely. I just love the choice of flowers and colors. Thank you so much, French Florist!" Nancy Lusk - Culver City, CA
"Ordered flowers from Steve for our wedding. Everything was so far beyond our expectations, and we still can't believe it when we look at our photos. The entire process was such a joy from start to finish. Just perfect" Gina & Bradley - Burbank, CA
"Steve Jacobson and his team at the French Florist have been doing our flowers and arrangements for a few years now at the house of the owner of Cirque du Soleil in Los Angeles, and we are absolutely delighted and happy for many reasons: Steve and his team are not only really professional, friendly and accommodating in many ways, they have been translating our visions and requests with great accuracy." - NaJa Barnes, Supervisor of the Cirque du Soleil House in Los Angeles
The "Best of Los Angeles Award" community was formed three years ago and consists of over 3,700 professional members living and working in Southern California. It celebrates the best people, places and things in Los Angeles with a slogan "No Ads. No B.S. Only the Best."
"The mission of the community is to celebrate the best of Los Angeles, and allow its community members to connect with other members who share the highest standards of quality and integrity," said DeRose.
"At the French Florist, we strive for only the best service. We are honored to receive this award and be recognized as 'The Best Florist in Los Angeles,'" says Jacobson.