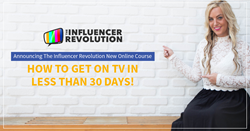 My course uses the exact proprietary process I use with my clients to get them featured on major TV networks such as ABC, CBS, NBC, FOX, and CNN.
San Diego, CA (PRWEB) November 22, 2017
San Diego/Columbus based Publicist and Top Millennial to follow, Heather DeSantis, just launched her course How To Get On TV In Less Than 30 Days in honor of World Television Day on November 21 to help small businesses, entrepreneurs and charities share their message by getting on their local ABC, CBS, NBC, and FOX. On November 21-22, 1996 the UN held their first World Television Forum. They brought together media leaders from around the world to talk about the growing role of television in a fast-changing world. Today the world is still changing fast, faster than ever in many ways, and in spite of all past worries by traditional television networks that streaming would be the end of professionally produced content, the truth is that people are consuming more video-style content of all kinds than ever before.
Since 2012 Heather has helped secure thousands of media spots including hundreds of TV appearances for her clients. Two things that does for all pitching of clients includes setting up google alerts so that she can stay up to date on all major topics that are related to her clients' industries and niches in addition, building campaigns around awareness days and national news. DeSantis shares, "it is imperative for people to value their local media market."
COURSE FEATURES INCLUDE:
Module 1 - Who Are You (And Why Media Outlets Care)
Module 2 - Who Do You Service (And What Makes You Interesting)
Module 3 - How To Maximize The Benefits Of Media Engagements
Module 4- How To Secure Media Engagements
Module 5 - What To Do After Media Engagements

Step by step program shows you how to get on TV
Step by step blueprint that eliminates overwhelm and guesswork
Best practices to keep you from botching the TV interview
How to craft a pitch that gets a response
Toolkit with pitch templates
Buy the course, How To Get On TV In Less Than 30 Days, here: https://influencerrevolution.com/getontv1
ABOUT HEATHER DESANTIS
Heather DeSantis Top Millennial To Follow in 2018 is an internationally recognized PR expert who helps mission driven entrepreneurs and organizations get major exposure, impact millions, and turn that influence into business growth. After 3 years of working for a PR firm, she branched out and started The Influencer Revolution to help her clients to land dozens of high level media appearances on outlets like ABC, NBC, FOX, CBS, CNN, Adult Swim, iHeart Media, Forbes, Business Insider, Forbes, Yahoo, CNBC, Marie Claire, and many more.