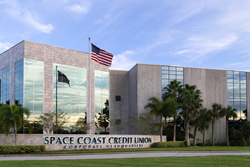 MELBOURNE, Fla. (PRWEB) November 27, 2017
Space Coast Credit Union is pleased to announce the promotion of several individuals.
Nadine Jadunandan to Director of Loan Servicing
Jadunandan began her career at SCCU in October of 2014 as the manager of the credit union's loan servicing department.
As director of loan servicing, Jadunandan will lead her team in the processing and quality control of the credit union's extensive loan portfolio, including auto loans, home loans, credit cards and more.
"Nadine's ability to manage multiple projects, motivate others to perform at a higher level and serve our members make her a great example of the type of leadership we look for," said SCCU vice president of operations Kim Lynn. "We are confident she will continue to elevate the level of communication and interaction we have with our members throughout the lending experience."
Luz Escoto to Director of Retail Services, Miami-Dade
Prior to the merger in 2010, Escoto started her career with Eastern Financial Florida Credit Union in 1993 as a closed account representative. In 2001 she moved to the front line as a member service specialist in the Sunset branch, and in 2005 she became platform supervisor at the Hialeah branch. In 2006 Escoto was promoted to branch manager before moving back to the Sunset branch to manage that location as well.
"Luz has shown a tremendous ability to lead over the course of her career, even when it hasn't been her role," said vice president of retail services, south Florida Carmen Tapanes. "She takes tremendous pride in assisting our members, and we're very excited to have her in this new position."
In her new role, Escoto will be responsible for the management of the credit union's branches and membership in Miami-Dade County.
Ann Roberts to Director of Retail Delivery, South Brevard
Roberts joined SCCU in March of 2015, bringing 20 years of experience with her to the Indialantic branch. In April of 2016, she was promoted manager of the Indialantic branch and assumed leadership of the Port Malabar branch as well just five months later.
In her new role, Roberts will be responsible for the management of the credit union's branches and membership in South Brevard County.
"Ann's passion to serve our members and desire to develop staff make her a perfect fit for this position," said SCCU vice president of retail services, central Florida Shane Hoyle. "We look forward to watching her lead our central Florida branches in serving our members' financial needs."
About Space Coast Credit Union
Space Coast Credit Union was chartered in 1951 and is headquartered in Melbourne, Florida. The credit union serves more than 380,000 members with assets of over $3.9 billion through a network of 59 branches and over 100 ATMs located along the state's east coast. Membership is open to anyone who lives or works in the fourteen counties SCCU operates.