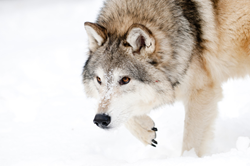 The elusive wolf is thrilling to observe in its natural habitat, on the hunt in snowy Yellowstone National Park.
JACKSON HOLE, Wyo. (PRWEB) December 04, 2017
The elusive wolf. This extraordinary animal can be hard to find, but is thrilling to observe in its natural habitat, on the hunt in snowy Yellowstone National Park. This winter, Wildlife Expeditions of Teton Science Schools offers the premier wolf-watching safari in the U.S. Rocky Mountains and Yellowstone with a new seven-day, six-night Winter Wolves of Yellowstone Expedition, traveling from Jackson Hole, Wyoming, to Bozeman, Montana, February 21 - 27, 2018. Along with tracking this important "apex predator" for the small group of guests on the week-long immersion tour, the expert guides at Wildlife Expeditions will locate a variety of the area's winter wildlife while educating guests about the park's geothermal features and habitat.
Guests of the Winter Wolves of Yellowstone Expedition ride comfortably in Mercedes-Benz snow coaches, specially designed to explore the wild snow-covered terrain while park roads are closed. The customized coaches include roof hatches for ideal wildlife spotting and photography, and guests also enjoy use of provided binoculars, high-quality spotting scopes, adult and kid guidebooks and Yaktrax traction devices and walking poles.
The trip starts in Jackson Hole with a welcome dinner at the new Glorietta Trattoria and an overnight in downtown Jackson at The Lexington hotel. The second day ventures into Grand Teton National Park in search of bighorn sheep, bald and golden eagles, coyotes, bison, mule deer and moose. After the morning filled with wildlife viewing, the day continues at the National Museum of Wildlife Art, where guests can experience the museum's impressive artwork from Audubon to Warhol, exploring the intersection of humans and nature through art while learning more about the local habitat. Following the museum tour, guests will glide through the snow in a horse drawn sleigh across the nearby National Elk Refuge, a vast territory filled with roaming elk and sweeping views.
The wildlife spotting continues on Day 3, traveling north through Grand Teton National Park and into Yellowstone National Park, sometimes referred to as America's Serengeti. Riding comfortably, guests find themselves peacefully secluded while spotting more wildlife and stopping for photo ops along the way. The day ends at Old Faithful where guests can enjoy watching the iconic eruption in all its natural glory before retiring at the Old Faithful Snow Lodge for the night. Day 4 includes a visit to Mammoth Hot Springs and continues into the famous Lamar Valley, offering prime locations for wolf spotting, and Day 5 presents a full day for spotting wolves in the Lamar Valley, along with other wildlife and magical winter landscapes. Day 6, the adventure continues north through Paradise Valley, to the Old West/New West town of Bozeman for a farewell dinner. On the seventh day, guests share breakfast before departing from the Bozeman airport.
A full itinerary for the safari can be found here, detailing each day's activities, meals and lodging. The cost for the seven-day winter expedition is $4,175 per person including lodging, meals and complimentary snacks and drinks throughout the day, as well as equipment, guides, and park and activity fees. If the February dates don't suit, Wildlife Expeditions may arrange private tours for $18,000 for a group of four.
About Wildlife Expeditions of Teton Science Schools:
With a mission of inspiring curiosity, engagement and leadership through transformative place-based education, Wildlife Expeditions of Teton Science Schools has a well-earned reputation of leading exceptional safari tours and locating wild animals in the wilderness in and around Yellowstone and Grand Teton National Parks. Jackson Hole, Wyoming's premier and original safari provider, Wildlife Expeditions offers family-friendly educational tours year-round in a stunning natural environment. The wildlife tour company has been featured in Conde Nast Traveler, as a bucket-list destination by the Travel Channel.com and as one of "10 Amazing Adventures" worldwide by USA Today. For more information or to book a Wildlife Expeditions tour, visit http://www.tetonscience.org.
Media Contact: Amy Stark, Word PR + Marketing, amy(at)wordprmarketing(dot)com 307.734.5335